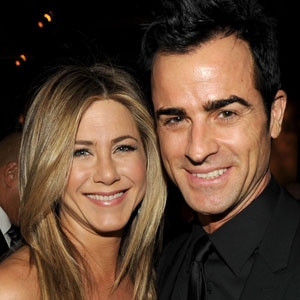 Kevin Winter/Getty Images
Jennifer Aniston and Justin Theroux did indeed adopt a little girl, and her name is Sophie. But we must also mention that Sophie is a 3-month-old boxer-pitbull mix.
Still! It's a big step, you guys...
Sophie will become Jen and Justin's roommate in their Bel-Air and Manhattan homes.
"She's the most adorable little cookie you've ever seen," the actor told New York Magazine. "She looks like she just smoked an exploding cigar."
Sorry if we got your hopes up, but there could be something (super) serious lingering in the air between these two.
The couple were caught wearing matching gold rings at the Wanderlust premiere last night. Sure, they kinda look like the rings you get from those coin machines at the grocery store, but who are we to judge?
First comes a puppy, then comes a marriage (with hopefully nicer rings), then comes a baby in the baby carriage. Totally makes sense!