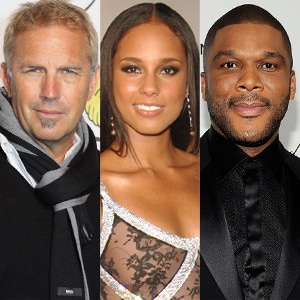 Andreas Rentz/Stephen Lovekin/Larry Busacca/Getty Images
With Whitney Houston's funeral less than two days away, it's no surprise that final plans and preparations are beginning to take shape.
Not only do we have the confirmed list of who will be taking part in the service, but we also have details on how the New Hope Baptist Church is being transformed for the day.
The program will include Kevin Costner, Aretha Franklin, Tyler Perry, Stevie Wonder, Rickey Minor, Alicia Keys, Dionne Warwick, Clive Davis and gospel singers CeCe Winans, Kim Burrell and Donnie McClurkin, a family rep confirms to E! News. The Rev. Marvin Winans will deliver the eulogy.
As previously reported, the funeral will be private and invite-only. Celebrities will enter through one side of the Newark, N.J., church while family and friends will come through another.
"It's not a huge church, but it's not small," Alicia Quarles, global entertainment and lifestyles editor for the Associated Press, who was allowed into the sanctuary today, tells E! News. "They're expecting 1,500 people to be there, so it's going to be tight."
While the Houstons will make the service available for television and web broadcast, Quarles is one of only a few journalists approved to be inside during the funeral. (E! Online will be livestreaming the service on Saturday starting at 8 a.m. PT/11 a.m. ET.)
"We saw them setting up a band," she said. "They said the church will be completely transformed. There's red seating [and] beautiful stained glass windows. They're getting ready for what's going to be Whitney's final performance, so to speak."
While Houston's death is often compared to that of Michael Jackson's, her family wants nothing like the spectacle that surrounded the King of Pop's funeral. "The family said, look we've given Whitney to the world our whole lives," Quarles said. "This is going to be her final resting and we want her to go out with her family and friends and for it to be a celebration of her life."
Sounds like the perfect plan to us.