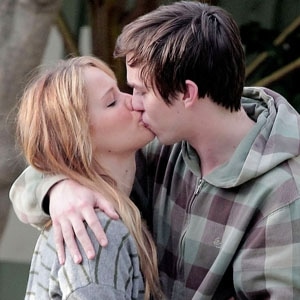 Gaz Shirley, PacificCoastNews.com
Love is publicly in the air!
And with all the devastating Hollywood break-ups (Katy Perry & Russell Brand, Heidi Klum & Seal) we're thrilled to have a hot young couple to swoon over.
But since Jennifer Lawrence and rumored boyfriend Nicholas Hoult have stayed mum on the details of their relaysh, we oh-so-excited we have fresh new pics where the twosome officially seal their relationship status with a kiss.
How très adorable, no?!
The couple was spotted by paps on Wednesday in Los Angeles, clearly still sharing the love from Valentine's Day. Wonder how the low-key couple spent Tuesday night? Hmm…
We just love this sweet duo, who seem totally down to Earth in every shot. You would never know Jennifer Lawrence landed the role of a lifetime in The Hunger Games—and after Liam Hemsworth's candid interview with Details, we're starting to think this is the most modest cast, like, ever.
Ya hear that, Twilight?
So, what are the deets on J.Law's BF?
The twosome met while filming X-Men First Class and according to reports, they've been seeing each other for a little over a year, but they've definitely been spotted out and about more than ever before.
And we're seriously hoping to see Nicholas by his gal's side on the red carpet at The Hunger Games premiere (remember, two of you mockingjays will have a chance to see the couple strut it together!)—which is just about a month away!
As for Nick's next gig? He's starring in the horror movie Warm Bodies, where he plays a zombie—and no, we're not kidding.
But Twilight (and Robsten) comparisons aside, we could not be more thrilled for the release of this film.
And even though the couple has never officially admitted they're together, we say it's time for a moniker after you pack some major PDA.
Jennolas? Hawrence? What say you, Awful readers?
Sound off below!