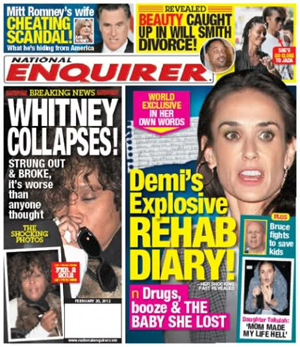 National Enquirer
Stars...they're just like us! Which means they occasionally like to indulge in juicy tabloid dirt as much as everybody else does.
Until they wind up on the cover, that is. People reports that shortly before her death, Whitney Houston suffered a meltdown in the Beverly Hilton Hotel gift shop over National Enquirer's cover, which claimed she'd collapsed.
But the seasoned diva couldn't really care that much what the goss rags said about her, could she?!