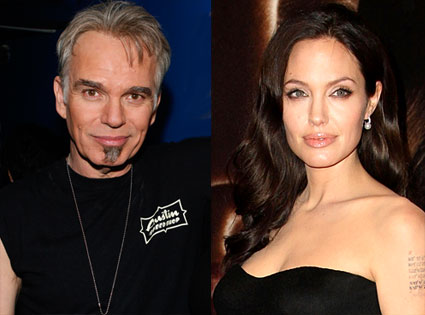 Soul Brother/Getty Images, Andrew H. Walker/Getty Images
You remember them together, right?
Hard-core PDA on the red carpet, matching tattoos, vials of each other's blood around their necks (blech). This unhappily-ever-after love story has just been waiting to be made into a flick.
So did Billy Bob Thornton finally use his personal life as inspiration for his new project? Variety quotes a producer claiming that Billy Bob's script for And Then We Drove is partly inspired by his outrageous relationship with ex-wife Angelina Jolie.
Hang on to your movie tickets, folks, because this rumor is...
So false!
Thornton's rep tells E! News, "This story is not true. It is neither based on nor inspired by his relationship with Angelina."
Well, there you have it.
But seriously, could someone get on that? It would really be an exciting film to watch, don't you think?
Update: Variety writer Gregg Goldstein stands by his reporting, telling E! News: "The info that Jolie partly inspired the film came from a source on Drove after my Thornton interview, and producer Alexander Rodnyansky subsequently confirmed it on the record. His quote was cut from my original draft but has been reinstated. When I asked him if Drove was partly based on Thornton's time with Jolie and his driving, Rodnyansky said, 'Right. It's very much based on that experience as well.'" Goldstein adds, "None of the producers or Thornton's publicist have contacted me or Variety about a correction."
—Reporting by Holly Passalaqua