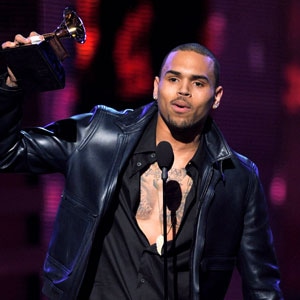 Kevin Winter/Getty Images
Not a fan of Chris Brown's Grammys "all is forgiven" performance and subsequent head-scratching lovefest on Sunday night? You're not alone.
Though some stars—and even the Recording Academy itself—welcomed Rihanna's violent ex back to the stage with open arms, heaping praise on his singing dance performance Sunday night, not all celebs have such a short-term memory.
Or a bitten tongue. Leading the way among the candid stars who had no qualms about slamming Brown's seemingly overly hospitable treatment from the awards show was country superstar Miranda Lambert (who, we're guessing, just won herself a few more crossover fans).
"How dang long did they give Nicki Minaj to do whatever that was?" she tweeted yesterday, after taking time to absorb the events of the previous night. "Strange. And Chris Brown twice? I don't get it. He beat on a girl…
"Not cool that we act like that didn't happen. He needs to listen to Gunpowder and lead and be put back in his place. Not at the Grammys."
For those unfamiliar with the oeuvre of Blake Shelton's missus, "Gunpowder and Lead" is Lambert's song about a woman preparing to kill her husband when he gets out of jail. Hey, there's no points for subtlety.
"Now…Bruno Mars…yes please!" she went on. "That rocked and also Adele…dug! And Jennifer Hudson! That's real music. Kinda made up for all the suck."
And just in case there was any question about who she was referring back to, well, other celebs stepped forward to fill in the gap.
Nestled among the incredulous was Modern Family's Eric Stonestreet.
"Are Chris brown's mom and dad CBS and Grammy Brown?" he asked.
Fellow small-screen big name Sherri Shepherd also offered up her point of view: "Looks like all is forgiven w Chris Brown. That's all I'll say."
But other stars were just getting started.
"Chris brown…people don't forget! #chrisbrownbeatswomen" Jack Osbourne tweeted out. "If Chris Brown had worn a wife beater, the irony would eclipse the whole show #chrisbrownbeatswomen."
Michelle Branch also added to the pileup of disbelief, tweeting, "Trying not to go off on a rant but…Chris Brown…*bites tongue* have we forgiven him? #Grammys."
Seemingly answering that very question, at least for himself, was Ethan Suplee.
"Why wasn't Chris Brown fired from 'music' (public dancing) when he beat up that girl?...Dear 'thugs' and 'gangstas' of the hip-hop industry, how is it that none of you 'handled' Chris Brown? #thuglife #prisonrules #getsome."
Of course, sometimes the best response is the simplest, which was supplied in this case by Wil Wheaton.
"Everyone who apparently forgot what Chris Brown did to Rihanna should read the police report on exactly what he did."
Funny how the Recording Academy didn't seem get that particular memo.