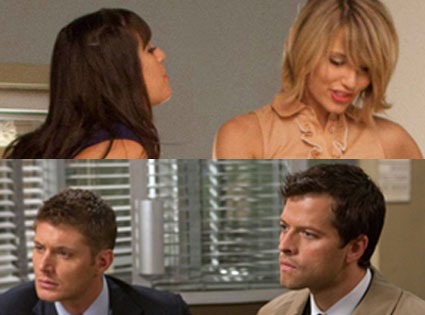 The CW; Fox
Update, 3:00 p.m.: The winners just tweeted a photo of themselves thanking you voters! Check it out below...

Happy Valentine's Day!
We have a winner in our weeks-long bracket-style tournament, TV's Top Couple. And if you aren't familiar with this show's particular fanbase, well, you will be now...
Update, 3:00: Dianna Agron just tweeted the photo above (of herself with Lea Michele) with the message: "In honor of the voters!" And the Faberry fandom explodes.
Rachel Berry (Lea Michele) and Quinn Fabray (Dianna Agron) from Glee have won our TV's Top Couple megapoll!
Now, when we say "mega" that is, in this case, apparently an understatement. The fans for "Faberry" (Fabray/Berry) as they call themselves, set a new record high for page turns on E! Online for any single post in the entire history of the website. Umm...yeah, we are just as stunned as you. Also, we did an investigation into this voting and it showed no signs of false play among "Faberry" fans: Just a group of hardcore, dedicated shippers who organized mass-voting times (all hours of the night), and obviously took this thing very seriously.
Now, I know what many of you who casually watch Glee are thinking: What the what?! Are Rachel and Quinn even a couple? And wait a minute, aren't they straight? Why yes, yes they are, as far as we know. But the "Faberry" fans believe these two belong together. And from the very first step of this Top Couple tournament, they represented, making sure that the pair received a nomination. As you may or may not recall, we left the nominations solely up to you. And after starting with 64 couples, we are left with the winners, Rachel and Quinn.
Second place goes to Dean and Castiel of Supernatural. (And if you haven't seen Misha Collins' hilarious statement about making it this far, you must go to Monday's Spoiler Chat!)
The results for the final round are: 
Quinn-Rachel (Dianna Agron & Lea Michele), Glee 177769 ( 62.3% )
Castiel-Dean (Misha Collins & Jensen Ackles), Supernatural 107572 ( 37.7% )
Congrats to Team Faberry. And thanks for playing, everyone.