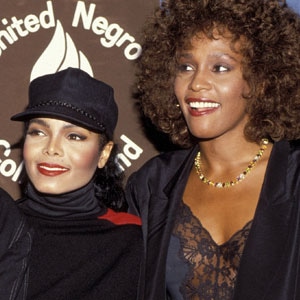 Kevin Mazur/WireImage
It's been over two years since Janet Jackson lost her brother Michael, but not a day goes by where the late King of Pop isn't on her mind.
On Saturday, Janet suffered another tragic loss: the untimely death of her friend Whitney Houston. "I couldn't believe it," she told Anderson Cooper on his eponymous talk show in an interview set to air Feb. 20. "Immediately I started shaking...I was speechless."
Besides her undeniable talent, what is it about Whitney that Janet will always remember?
"She was such a sweet, sweet soul," Jackson told Cooper. "Especially back in the early '80s and early '90s is when I connected with Whitney the most. It doesn't matter if we were doing an awards show. We would always take the time to find one another...We always found the time to talk to one another."
"I pray for [Whitney's daughter Bobbi Kristina] and her family, even Bobby [Brown]," Janet said. "I mean, he's gong through so much. They are all going through so much. The mother, it's very sad."
Janet's comments came after the entire Jackson family released a statement Monday saying how much they would miss Houston, "one of the world's most gifted vocalists and talented entertainers." They asked "everyone to consider her family at this time of difficulty by granting them to patience and comfort they need to mourn their loss in peace."
Janet also offered up some words of wisdom to 18-year-old Bobbi Kristina.
"It's very difficult," Janet said of losing a family member. "You have to come to terms with it at some point. You have to actually give it up to God, and it sounds so mean, but you have to move on. You can't hold onto that because it can be very devastating. Sometimes therapy is the best thing."
While you might never get closure about a loved one's death, "you have to go on with your life."
"You figure out a way to move on," Janet added. "[But] it's always right there."