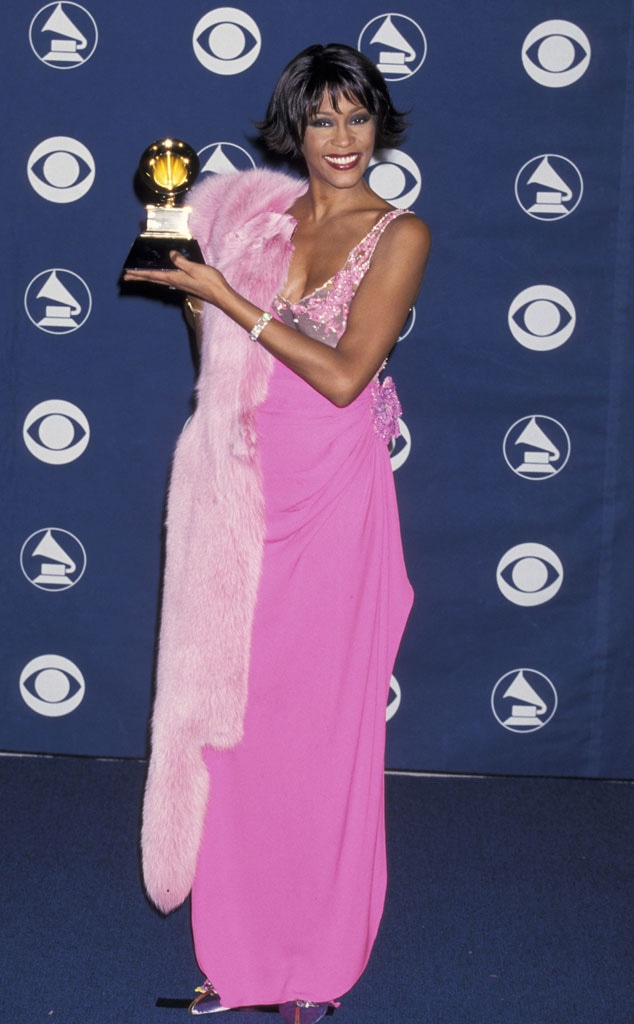 Ron Galella/WireImage
Didn't she almost have it all?
Whitney Houston sold more than 200 million albums and singles, and she had 11 No. 1 songs—including, of course, "I Will Always Love You," which spent 14 weeks on top. The Bodyguard won the Grammy for Album of the Year and remains the best-selling soundtrack of all time.
The pioneering diva commanded a $10 million paycheck for The Preacher's Wife in 1995. She signed a then-record $100 million contract with Arista Records in 2001. Her 2010 Nothing but Love tour grossed $36 million.
But the superlatively talented artist also went through a messy divorce and spent years battling addiction to drugs and alcohol.
So, in the end, how much of that fortune remained when she died Saturday?
"There were certainly rumors that Whitney Houston died broke and she didn't have any significant financial impact in the last couple years of her life," Forbes writer Zack O'Malley Greenburg tells E! News. "It's been a while since she has put out an album and been on tour, so one could see why towards the end of her life she would be running a bit low on cash."
The financial magazine estimates the most lucrative period of Houston's career to be between 1993 and 1994, when the Bodyguard soundtrack was blowing up and she earned $33 million—enough to rank her behind only Oprah Winfrey and Barbra Streisand on Forbes' list of the highest earning female entertainers at the time.
But apparently nine-figure sums, let alone measly eight-figure sums, can be blown through more easily than one might think. And it's sadly conceivable that the erratic behavior that ultimately ravaged Houston's once-incomparable voice may have laid waste to her bank account, as well.
Property records show that Houston had approximately $2.85 million worth of real estate in her name in the form of two homes in New Jersey, one of which was nearly auctioned out from under her in 2006. Daughter Bobbi Kristina has listed her address as an Atlanta townhouse that was purchased in 2007 for $509,875.
Her mom and dad sold the 8,200-square-foot Georgia home featured on Being Bobby Brown following their divorce in 2007. Houston also a house in Florida for $1.35 million back in 2005.
So, should the real question be how much does Houston stand to make in death? Michael Jackson's financial debacles were tabloid fodder for years before his shocking demise, and now his estate is seemingly flush with posthumous earnings.
Sony Music, which owns the rights to Houston's vast catalog , including the Bodyguard soundtrack, is understandably planning an aggressive marketing campaign to broaden awareness of Houston's repertoire among new generations of download-happy fans. (Shortly after her death, the label upped the basic track price on her iTunes songs from 99 cents to $1.29. Regardless, fans have been grabbing her tracks in huge numbers.)
The label did the same thing when Jackson died, posthumously selling more than 35 million albums worldwide.
That sounds promising for Houston's estate, doesn't it?
Well, unlike Jackson, Houston did not write her biggest hits and does not have a share of the publishing, exponentially decreasing her cut of any sales revenue.
In fact, Dolly Parton, who wrote "I Will Always Love You," owns the song and, if the cover shooting to the top of the iTunes singles chart just hours after Houston's death is any indicator, she stands poised to cash in all over again. (Fun fact: Elvis Presley wanted to record the ballad late in his career, but his people wanted to buy it and Parton wasn't sellin'.)
"When Whitney did it, I got all the money for the publishing and for the writing, and I bought a lot of cheap wigs," Parton quipped to CNN's Anderson Cooper in an interview last month.
Sony chief creative officer Clive Davis, who pretty much discovered Houston when she was a teenager, also stands to profit mightily should her music go on a selling spree, as he executive-produced her first three mega-hit albums— Whitney Houston, Whitney and I'm Your Baby Tonight—as well as her final effort, 2009's I Look To You. He is also credited as a producer on 1998's My Love Is Your Love.
Of course, Forbes' Greenburg notes, "selling 200 million records, [even] for someone without any publishing royalties, that is still at least a quarter of a billion dollars in earnings."
And we have a feeling the true state of Houston's affairs will be public knowledge before too long.