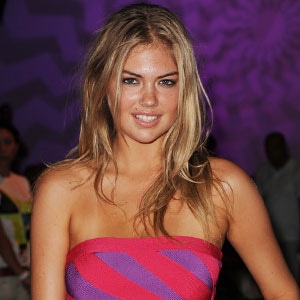 Uri Schanker/FilmMagic
Bikini shot of the day, indeed.
Though the big reveal was scheduled, as it has been in recent years, for tonight on The Late Show With David Letterman, a blogger went and leaked the supposedly top-secret cover of the 2012 Sports Illustrated Swimsuit Issue.
SI has no comment—what is there to say, really—but you may as well go ahead and ogle 2012 cover girl Kate Upton...
The 19-year-old blonde made her SI debut just last year in the body paint section of the Swimsuit Issue and was deemed "rookie of the year." She has also modeled for Victoria's Secret and was named "The Woman of Summer" by Esquire in 2011.
Upton also appeared in the Brett Ratner-directed caper Tower Heist and will be in the Farrelly brothers' The Three Stooges.
And she's about to get a lot more famous than that.
The SI leak possibly originated on Bar Stool Sports, a website devoted to Boston teams. But only after the photo of the cover, featuring Upton in a barely there string bikini, became a sensation did site founder David Portnoy realize that he may have started something.
"Wait did we just leak the Kate Upton SI cover? We're so good we leak s--t and don't even know," he tweeted.
TMZ noted that a Michigan newsstand ended up with early copies of the issue, and a Twitter user whose listed website is the Michigan-based online clothing and housewares store Huzza tweeted this to Portnoy: "Wait, @stoolpresidente, did I just leak the SI Cover?"
Maybe you did, sir. Maybe you did.