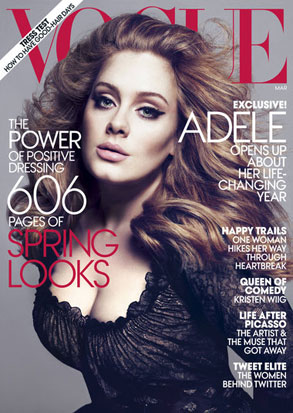 Vogue
Scoring total Grammy domination and the cover of Vogue all in the same weekend? Now that's a one-two punch.
Fresh from her six-for-six Grammy wins last night, Adele has turned covergirl, getting in touch with her inner fashionista by taking the March cover of Vogue.
During the interview, the bubbly personality's conversation ran the gamut as she dished on everything from her vocal scare to taking time off from singing, the public's biggest misconceptions about her, her surprising star crush, her even more surprising star nursemaid and which artist she's most inspired by.
Oh, and the fact that she's done with being a "bitter witch."