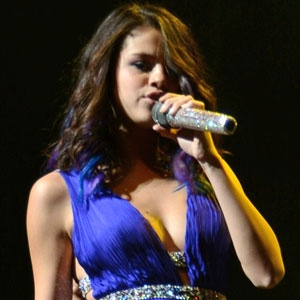 Photopress PR / Splash
The Scene will no longer be seen and heard—at least not with Selena Gomez.
The multihyphenate star (singer–actress–Biebs' girlfriend) has called it quits with her band, with whom she's released three albums and recently wrapped up a Latin American tour.
So why are they parting ways, and was it an amicable split?
No breakup drama here: The Disney star says she wants to focus on her budding film career, and that everyone is on great terms.
"My band and I are going our separate ways for a while. This year is all about films and acting and I want my band to play music wherever with whoever. We will be back but it will be a good while. I love them and I love you guys," she wrote on her Facebook page on Saturday.
Earlier, she also posted a photo of herself, the band and her touring crew on her Instagram page, along with this note:
"I can't express enough how grateful I am for this group. They have been with me since day one and I can't believe it's actually over. I love you The Scene, marsh mellow girls, Ashley & Ashlee, Jivanta, Marco, Brian & Brian, mark, Jason, Javier, Timmy! Could NOT have done any of this without you. Currently bawling my eyes out. I'll miss you guys."
Their last album, 2011's When the Sun Goes Down, peaked at number three on the Billboard 200 chart and spawned the catchy single "Who Says."
Gomez's movie career has also been taking off. Last year, she headlined the charming, getaway-themed rom-com Monte Carlo, which did decent business and introduced the star to a wider audience.
Next up, she'll appear in Adam Sandler's animated vampire flick Hotel Transylvania, in which she'll voice the character of Dracula's daughter. (She took over the role from Miley Cyrus, who had to drop out.)
Gomez will also star alongside James Franco and Vanessa Hudgens in Spring Breakers, a flick about four college gals who hijack a fast-food restaurant in order to finance their Florida spring break.
Hmmm...maybe there's some room on the movie's soundtrack for a song from The Scene?