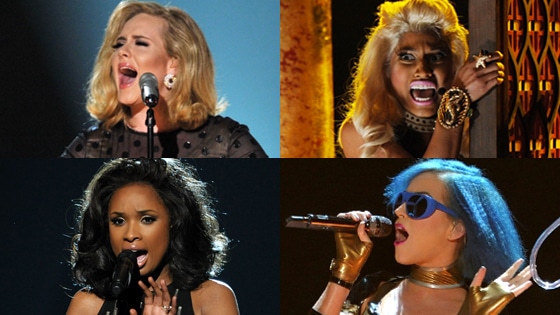 John Shearer/WireImage; Kevin Winter/Getty Images
Whitney Houston's death was the biggest story of the night, as the singer's passing hung over the entire affair. But the show went on, and the night had its share of ups, downs and clowning around from the likes of Adele, Nicki Minaj, Foo Fighters, Taylor Swift, Paul McCartney, Bruce Springsteen, Katy Perry and more.
So let's get to the best, the worst and the rest right now:
Best Opening Salvo: Nothing shakes off the blues like a blast from Bruce Springsteen and the E Street Band, and the group got things off to a rollicking start, even without the late lamented Clarence "Big Man" Clemons.
Biggest Surprise: Speaking of the Big Man, host LL Cool J did something unusual for someone not winning a Grammy: He invoked God with a thoughtful prayer in honor of Whitney Houston. It was a genuine moment, both heartfelt and unexpected.
Worst Realization: After that sweet moment of genuine feeling, LL got back into the hosting mood by name-checking all the big names in the front row, which culminated in calling Beatles legend Paul McCartney "Sir O.G." We quietly said a prayer that the rest of the show will be better.
Best Tribute: Bruno Mars turned in a James Brown-centric performance of synchronized moves, start-and-stop rhythms and strategic posing. And hey: the song is pretty good, too.
Worst: Really, Grammys? Chris Brown in the first half hour?
Best Rock Performance: Foo Fighters...though we have to admit they may have been the only straight-up rock band invited to perform. How do we know they're authentically rock? The Grammys made them perform out in the parking lot, unlike almost everyone else.
Best or Worst Duet: Coldplay and Rihanna? Bonnie Raitt and Alicia Keys? Kelly Clarkson and Jason Aldean? Hit the comments and let us know which pairing you loved the best.
Worst Comparison: For us, the Coldplay-Rihanna performance was completely overshadowed by Willie Nelson singing the band's song "The Scientist" in that Chipotle ad.
Worst Segue: Foo Fighter Dave Grohl ended his speech, an ode to rock authenticity, by shouting "Rock and roll!" while the Grammys producers were playing him off with LMFAO's "Party Rock Anthem."
MC Love: As much as we appreciated the attempt to merge the classic with the current as Foster the People and Maroon 5 teamed with the Beach Boys, the fact that BB's Mike Love was rocking more bling than the showiest rap emcee showed that influence goes both ways.
Best Quip: "We'd like to thank all our opening acts tonight," joked the Grammy-winning duo the Civil Wars, who charmed with two voices, one guitar and a lot of talent in their one-minute performance.
Best Present: Presenter, we mean. We couldn't think of a single reason why Kate Beckinsale was at the Grammys, but we couldn't think of a reason to object either.
Worst Trick: Katy Perry's performance seemed to break down in the middle, but it was just a clever ruse that turned into a flame-thrower of a performance.
Biggest Payoff: Adele's performance was about as anticipated as they get, and the singer didn't disappoint. She kicked off  "Rolling in the Deep" a cappella, and her soaring voice made the well-played tune sound brand-new.
And the Best Part? The super-long applause that showered Adele once the performance was finished.
Most Shocking: Best New Artist Bon Iver's Justin Vernon thanked tons of people, including those nominated and not, folks in Wisconsin and his parents. And the most shocking part? He's been releasing albums since 2007.
(Almost) Best Tribute: The Glen Campbell lovefest totally worked because the songs still sound good, The Band Perry and Blake Shelton delivered excellent covers and Campbell himself, who has played with everyone from Frank Sinatra to the Beach Boys in his long career, joined in and kept it short and sweet.
Even Better Than That Tribute: Jennifer Hudson's emotionally charged "I Will Always Love You" was a powerhouse salute to Whitney Houston.
Worst Spectacle: As much as we like the rap pixie, Nicki Minaj offered up a Lady Gaga-lite scary religious movie that was way too long, kinda silly and way annoying coming so late in the show. But hey, at least she can always ask her Pope-date for absolution!
Best Spectacle: As much as we were way ready for things to be over at this point, deadmau5's leering robo-head was ridiculously fun.
Worst Timing: The Grammys ran long again—even though we recall LL Cool J saying he was in charge of keeping things on time (and he always delivers on NCIS: LA)—and you have to wonder why nobody thought to cut some of the overlong performances (hi, Nicki Minaj!) or suggest that acts don't need to perform multiple times as many did.
Or Here's an Idea: Do a Grammys concert special and skip handing out the awards?
Jammed Up: Did you like the last jam with Paul McCartney, Springsteen and Dave Grohl, or were you thinking it would have been more welcome a few hours earlier in the three-and-a-half-hour evening?
Best Juxtaposition: You gotta love how different Adele's thick Cockney speaking voice is from her sweet singing one. "Mum, girl did good!" she yelped out to her mother upon winning the Album of the Year, and you couldn't help but be happy for the singer.