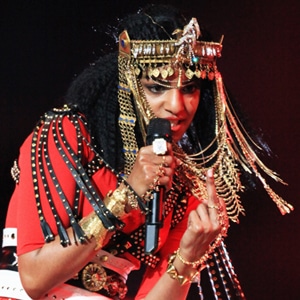 Forget the NFL, forget the FCC, M.I.A. angered a far more formidable and wide-reaching body with her Super Bowl bird-flip: Madonna.
The pop superstar phoned up E! News' Ryan Seacrest this morning and wasted no time in expressing both her surprise at the British rapper's unexpected one-finger salute as well as her more than palpable annoyance.
"To tell you the truth, I didn't even know about it," Madonna told the E! News anchor. "I didn't know about it until I left. I found out about it in the elevator, actually.
"I was really surprised. I didn't know anything about it. I wasn't happy about it. I understand it's kind of punk rock and everything, but to me there was such a feeling of love and good energy and positivity, it seemed negative."
Even Seacrest seemed to agree, referring to it as a "sneaky move."
"It's one of those things, it's such a teenager…in a way, kind of irrelevant kind of thing to do. There was such a feeling of love and unity there, what was the point? It was just out of place."
And not just out of place. It was potentially in costly breach of contract, as well. Guess that settles it: not all publicity is good publicity.