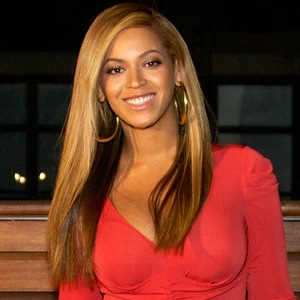 beyonceonline.com
Why would Beyoncé trademark her baby's name? Are we about to see an onslaught of Blue Ivy products?
—Squawk, via the inbox
Well, the baby already has a spot in music history thanks to her debut on Billboard, so would a line of Blue Ivy binkies and booties really shock you—binkies and booties decked out in, well, blue ivy? Here's what I can tell you ...
Yes, Blue Ivy, that royal fashion baby of hip-hop, is the official subject of a trademark filing by her doting parents. The filing lists nearly two pages of stuff that the trademark could apply to, including (but not limited to) "non-medicated hair care preparations, non-medicated hair gel, hair oils, hair pomades, decorative magnets, eyeglass cases, computer bags, graduated glassware," and, yes really, "electric hair-curlers."
The filing essentially puts a block on anyone else who wants to use Blue Ivy's name to sell such stuff to the credulous public. And that's smart, because two unrelated parties already have tried to do just that.
One guy, a fashion designer named Joseph Mbeh, submitted an application to trademark "Blue Ivy Carter NYC," while another filed to reserve "Blue Ivy Carter Glory IV" for use on a perfume line. Both were denied.
Beyoncé and Jay-Z "are very shrewd" to file for the trademark, Peter Toren of the law firm Weisbrod Matteis & Copley tells me. This is the first time Toren has heard of a star trying to protect the name of a child, but it probably won't be the last.
"There are lots of celebrities that will likely register their children's names as trademarks, just to prevent other people from using them," Toren says.
So does that mean that the brand name Blue Ivy Blankets by Beyoncé is an inevitability? Not necessarily. Remember, Beyoncé and Jay-Z did not try to capitalize on their wedding by selling photos, and they have yet to publicly charge for a photo of Blue Ivy—something that plenty of other money-hungry celebs have not hesitated to do. The Carters, in other words, have shown a pattern of not trying to monetize their family or personal lives.
Instead, says Aaron Moss, of the law firm Greenberg Glusker, this is more likely an attempt at protecting Blue from exploitation.
"This seems like a classic attempt to block others from registering this trademark," Moss says. He notes that the couple has the option of keeping Blue's name off the market for up to three years, without putting out a single Blue Ivy product of their own. After that, the trademark protection fade -- but so may such intense commercial interest in Ivy, after that.
"Maybe the idea is to keep extending the filings as long as possible, and then, after three years maybe attention has died down and they let it lapse," Moss says.