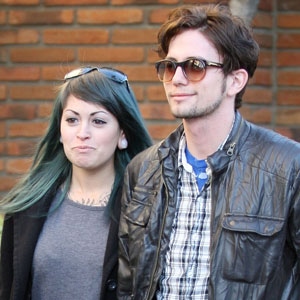 GHOST/Fame Pictures
Jackson Rathbone and girlfriend Sheila Hafsadi have the honor of becoming the very first young Twilight parents, and are expecting their first child together, his rep officially confirmed to us.
So, what's the latest on the happy couple? And which Twilight costar is staying mum on the news?
The couple is "is thrilled and excited to be expecting their first child," Rathbone's rep told us.
And we're hardly surprised the dude's ready to be a dad!
After all, Rath and his burlesque-dancer lady have been spotted all over town since they first stepped out together in October. The twosome met during a tour stop with Jackson's band, 100 Monkeys, and according to Us Weekly, the couple is five months' pregnant.
So, is the next step wedded bliss for the couple?
If ya ask us, we're thinking it's highly possible for the duo—considering they stepped out in Rome with Twilight costar, Nikki Reed and husband Paul McDonald in late October.
Guess that means Niks is a fan of the pair?
But Jackson's other costar (and onscreen love) Ashley Greene has yet to comment on the couple's pregnancy.
And while her rep insists they will not ask Ash for comment, we can't help but wonder why the babe hasn't even tweeted a small congrats? Especially since Ash and Jacks have said they are super close offset.
Why so mum, Ash? You wouldn't want to stir up any drama in time for Breaking Dawn: Part 2, right?
Kidding (sorta). We'll leave that nonsense to Nikki, of course!
Now, let's get some baby bumpin' photos, already, and super congrats to the happy couple!