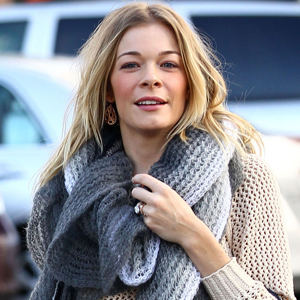 GSI Media
LeAnn Rimes is in recovery mode.
The singer took to Twitter last week and informed her fans that she was indeed still smarting from a minor operation performed on her mouth.
But no, it's not what you think.
Rimes' rep confirmed to E! News that LeAnn underwent minor oral surgery to correct TMJ and is healing quickly.
"K, coming clean...I had minor surgery this week and I've been in SO much pain it's not even funny," she tweeted on Friday. "Nothing major just annoying! Pain pain go away!!!!!! When it's mouth pain and jaw pain it makes your whole head pound! YUCK."
Fortunately, even though she "got meds but nada is helping," the view she enjoyed during her recuperation might've alleviated some of her pain, recovering as she was at her Malibu beach house.
"The pain is subsiding finally for a moment," she tweeted. "My head has been vibrating all day. Maybe the sand under my feet is helping."
Of course, even through her self-described "chipmunk cheeks," LeAnn still had the wherewithal to preventively shoot down any rumors as the potentially vain nature of her operation.
After a fan tweeted her feel better wishes on her "facial surgery," she replied, "facial surgery lol that makes it sound like I got work done. You are gonna start some rumors."
Yesterday, the pain seemed to be letting up—though that may be down to the distraction.
"I'm good I just clench and that hurts," she wrote. "Off and on pain.
"Not feeling better just yet, sucks. I haven't been able to workout in 6 days. I need to. Super Bowl, YES."
Even better, her New York Giants won the game. Hey, those endorphins have to have helped aher pain at least a little, right?