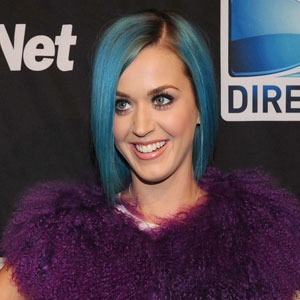 Michael Buckner/Getty Images
It looks like Katy Perry caught wind of those Tim Tebow rumors.
The "Firework" singer, who has been linked to the Denver Broncos quarterback, made sure to give a little mention to the ultra-religious baller during her pre-Super Bowl performance Saturday night in Indianapolis, Ind.
During the DirecTV Super Saturday Night party, which marked her first U.S. concert post-Russell Brand split, Perry "dedicated 'Peacock' to [Tebow]," a partygoer told E! News, and made no mention of her ex-hubby.
The song, which contains the lyrics "I wanna see your peacock" among other not-so-subtle references, probably wasn't the best choice in song dedications for Tebow, whose parents are ministers.
But, that wasn't the end of Perry's Tebow shout-outs.
During the NFL Honors ceremony Saturday, Perry presented the first award of the night to Carolina Panthers quarterback Cam Newton and singled out Tebow, who was sitting in the front row of the audience, while she was at it, saying, "Hey Tim, my parents say hi."
Just in case you missed it, it's been reported that Perry's parents, who are also ministers, have had their eyes on the NFL star as a possible match for their daughter.
Coincidentally, Perry just so happens to have a suite right next to Tebow's for today's Super Bowl game, a source told E! News exclusively.
How convenient…
—Additional reporting by Maureen Heaton