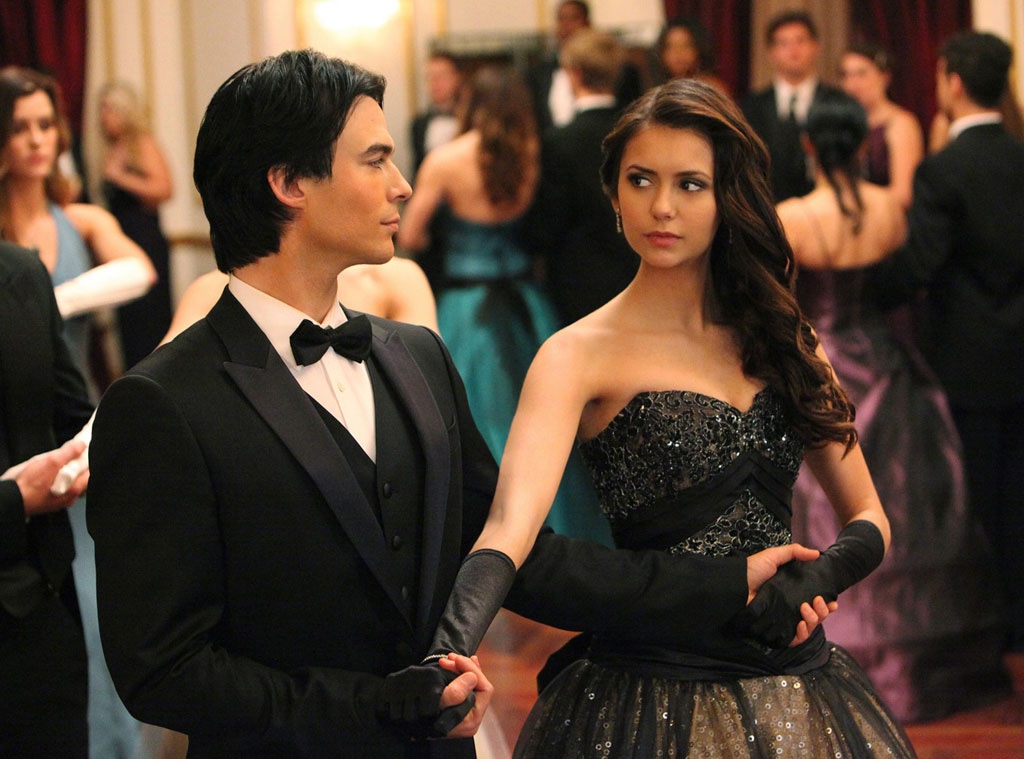 Quantrell D. Colbert/The CW
Elena and Damon! Elena and Stefan ! Elena and...Matt?!
On The Vampire Diaries, Elena (Nina Dobrev) is torn between two brothers—one who killed her own brother (Ian Somerhalder) and one who almost killed her (Paul Wesley). Oh, and both have tried to turn her into a vampire. Talk about romance! So which brother will she choose...if she chooses at all?

We hit the set of The Vampire Diaries in Atlanta to get all the scoop from the stars about what's ahead for TV's hottest triangle...or is it a love square?! Yes, it seems Elena will be doing a little reconnecting with a certain ex-boyfriend....
"The love triangle is back on, and she's between brothers yet again," Dobrev teases. "It can go in either direction or neither direction. If I were Elena I'd probably want to step back and take a break from the Salvatores, no matter how brooding, lovely and dangerously delicious they are. It's just a lot. I think Elena needs to take a break."
Somerhalder seems to agree with his costar, guessing, "I think she is probably done with the Salvatore boys for a while." In fact, he thinks Damon has no chance with Elena. "I think Matt (Zach Roerig) or Tyler (Michael Trevino) or even the family dog would have a better chance of getting Elena than Damon would," he bluntly says. "The things that this man has done to this poor teenage girl is an insurmountable amount of bad. I just don't foresee her turning unless he can just get her away from vervain and just compel her to forget everything he's ever done."
And he's about to do something else he'll probably want Elena to forget, which includes getting with another lady. Tsk-tsk! While we asked Dobrev for the specifics and whether or not we'll see Elena's jealous side, she would only say, "Damon is Damon. Damon does and says things impulsively and because of his actions...he gets himself into trouble sometimes. He does things that will have consequences, whether for the good or the bad."
With Damon getting nekkid with someone else and Stefan attempting to drive her off bridges and turn her into a vampire, Elena will turn to another guy for support: her ex-boyfriend Matt, whom she recently reconnected with via a symbolic funeral on the very bridge her parents died on.
"She's definitely going to be leaning towards Matt, looking to him for advice and his opinion and his support," Dobrev explains. "He's the last human she has in her life that she can trust and confide in and that she has a history with." Dobrev was quick to point out, "That doesn't always mean romantic, but they do have a romantic history, so who knows?"
As for what's ahead for the former couple, Roerig teases, "Elena is probably going to be pretty busy with her vampires, but I also think that she's starting to realize that Matt is that guy that will always be there. Whether he falls in love with someone else or is with someone else, she can always go back to him."
To hear more from Dobrev and Roerig, including whether or not he'd like to see Matt and Elena get back together, watch our interviews with them above. The Vampire Diaries airs Thursdays at 8 p.m. on the CW.
Who would you like to see Elena date: Damon, Stefan or Matt? Are you happy we're going to be seeing more of Elena and Matt's friendship? Who do you think Damon hooks up with? Sound off in the comments!