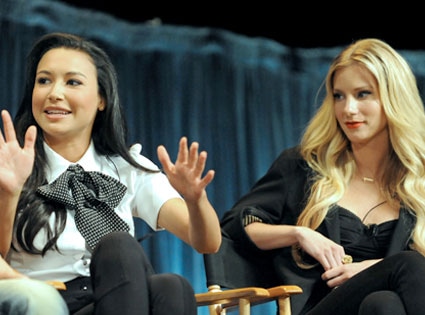 Kevin Parry for PaleyFest
Get ready for a Glee fangasm.
A reliable source tells me that the moment Brittany (Heather Morris) and Santana (Naya Rivera) fans have been waiting for is coming—and soon.
All you need to know are these eight little words:
"Brittany and Santana are going to make out."
Brittana fans, I'll give you a moment to let it aaaall soak in. Chances are, some of you are going all Kristen Bell right now.
According to this source, who uttered those eight little words, Heather and Naya's PDA will go down in the Valentine's Day episode of Glee, set to air Feb. 14 on Fox.
I'm told what happens with Brittany and Santana is "sweet and it's romantic and it will satisfy fans."
This certainly should come as happy news to fans who have been lobbying for a kiss between Heather and Naya's characters. (This season, there has been a cute look in the locker room, and a brief handhold, but not much more.) Consider it a glittery, puffy-painted, handmade Valentine from Ryan Murphy straight to you.
In other Glee news, last night's amazing Michael Jackson episode  (packed with more big-production musical numbers than ever before) gave the series a nice ratings uptick, helping Fox win the night among young viewers. The show also served this important public service message: Never put rock salt in your slushie. So. Not. Cool.
Anyone looking forward to the Valentine's Day episode now? Yeah, didn't think so...