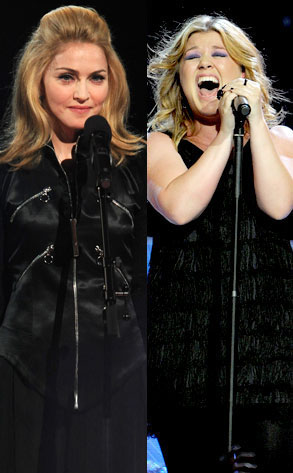 Kevin Mazur/WireImage.com; Martin Philbey/Redferns/Getty Images
The Super Bowl's coming up this Sunday, but there's a lot more at stake than just the New York Giants versus the New England Patriots.
Will Kelly Clarkson flub the national anthem like Christina Aguilera did last year? Odds—from Bodava—are 2.5-1 she'll omit at least one word. You can also wager on whether the Idol alum will be wearing a Colts jersey (7-1), in Patriots gear (15-1), an NFL shirt (2-1) or...anything else (3-1).
While there probably won't be another Janet Jackson-esque wardrobe malfunction, odds are 3-1 that Clarkson's bare belly will be showing when she's belting out "The Star-Spangled Banner."
As for Madonna's halftime show?