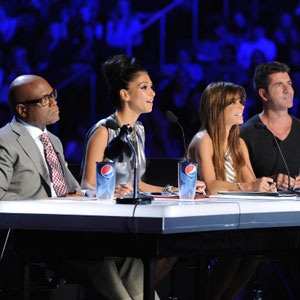 Ray Mickshaw / FOX
The body count on the Moldavian massacre wasn't this high, nor the motive as murky.
Why exactly have Steve Jones, Nicole Scherzinger and, most surprising, Paula Abdul all been exed out of The X Factor? A rundown of the five leading scenarios:
1. It Was the Ratings, Stupid: Fox didn't just promise X Factor sponsors good numbers, which is what the Top 25 show delivered, it promised sponsors great numbers. When The X Factor fell short of its American Idol-sized goal, the network was forced to cut ad rates, and offer make-good spots, the Wall Street Journal reported last October.
2. It Was Simon Cowell's High Standards, Obviously: Guess  who made The X Factor's goals so high? Guess who was on record as saying the series would be a "disappointment" if it didn't reach an Idol-esque 20 million viewers? Guess who was firing people (well, Cheryl Cole) before the show even premiered?
3. It Was the Chemistry, or Lack Thereof, Clearly: Jones, who never seemed a fan favorite, and was rumored to have been fired last month, could step on big moments, as with the dramatic elimination of Drew Ryniewicz. Scherzinger, as season-one hopeful Stacy Francis told our Marc Malkin, "didn't have her head in the game." Abdul, who got high points from Francis, for what it's worth, was Abdul in the best way possible, so her departure could be Cowell's way of telling the audience he'll do anything—anything—to make a TV show a must-see event.
4. It Was Much Too Much, Arguably: Critics piled on The X Factor's mammoth production for a "phoniness that permeates every aspect of the show" (USA Today), and a set-up that obsured the very talent it was supposed to spotlight. ("A few weeks ago, Rachel Crow had 25 backup singers with her on stage," the Detroit News observed in October, "moments later, Melanie Amaro had 26.") A housecleaning is one way to downsize; as of now, only Cowell and L.A. Reid remain at the judges' table.
5. It Didn't Produce "A Moment Like This," Shockingly: More than TV ratings, Cowell judged Idol's success by the stars and hits it created. So, it must've grated to know that The Voice proved itself capable of launching a monster song, "Moves Like Jagger," albeit for judges Adam Levine and Christina Aguilera, and not one of its contestants, or to see Blake Shelton (another Voice judge) and Idol alum Kelly Clarkson all over the singles charts, while The X Factor has been a non-factor. True, first-season winner Melanie Amaro is getting the big push Sunday, when she'll be seen in a Super Bowl Pepsi spot with Elton John, but judging by his actions, Cowell's not content to wait around and see if something pops.