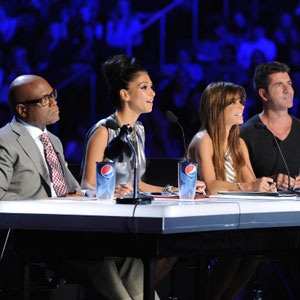 Ray Mickshaw / FOX
Steve Jones isn't the only one not returning for the second season of X Factor.
I can exclusively reveal that Nicole Scherzinger has also decided not to come back.
"She wants to focus on her music career," a source said. "She's spoken to Simon [Cowell] and he's given her his blessing."
Scherzinger is currently rehearsing for her upcoming European tour that kicks off next month.
"X Factor took a lot more of her time than she ever expected," the source said. "She didn't have any time really to work on her music. She was doing X Factor six days a week."
Scherzinger's rep did not immediately comment, but a rep for Fox confirms the news.
Scherzinger told me in early December that judging was never easy for her. "It breaks my heart and that's why I'm crying, too," she said about watching fan favorite Drew Ryniewicz get cut. "I'm not a judge first—I'm an artist first. I've been there. I know what it's like."
Jones announced earlier today on Twitter that he would be leaving the show.
"I won't be hosting next seasons X Factor which is a shame but I can't complain as I've had a great time," Jones writes. "Good luck to everyone on the show."
His manager John Ferriter later told E! News that the parting is "totally amicable."