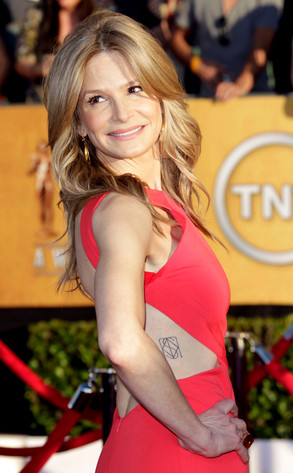 Jeff Vespa/WireImage
Kyra Sedgwick definitely got heads turning while walking the red carpet in a gorgeous red Pucci gown prior to Sunday night's SAG Awards.
But she also had folks scratching those very same noggins as well while exposing some new body ink.
When asked by our very own Giuliana Rancic about her tattoo, Kevin Bacon's significant other was more than happy to explain.
"It's a family tattoo," the star of The Closer revealed. "It's all our initials K, K, S and T."
In addition to her and her husband, the other letters refer to the couple's two kids, 22-year-old Travis and 19-year-old Sosie.
Of course, 46-year-old Sedgwick is no stranger to such artwork, having recently given beachgoers quite the eyeful during a recent Hawaiian vacation.