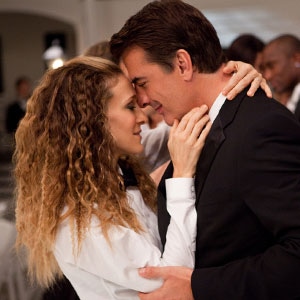 Craig Blankenhorn/MMIX New Line Productions, Inc.
While we wait to hear if another Sex and the City movie will ever be made, could a Mr. Big and Carrie reunion happen in the meantime?
As you may have heard Sarah Jessica Parker has replaced Demi Moore as Gloria Steinem in Lovelace, the upcoming Linda Lovelace biopic starring Amanda Seyfried.
Well, as we discussed the other day, Chris Noth is in the flick, too.
Will the two SATC alum have any scenes together?
Unfortunately, no.
However, that doesn't mean we can't dream.
"They should write us a scene," Noth told me at the SAG Awards. "My character funds [Deep Throat], so I should try to talk Gloria into a porn scene," Noth cracked.
Joking aside, Noth says he remembers when porn was pushed into the mainstream with the crossover hit Deep Throat.
"It's a story chock-full of interesting characters," he said of Lovelace. "It's about the times that we lived in at the point. It's about cutting through the myth. She's an enigma...It's an interesting look at what pornography was then and what it's become."
Or at least a great look back at some of the fashions.