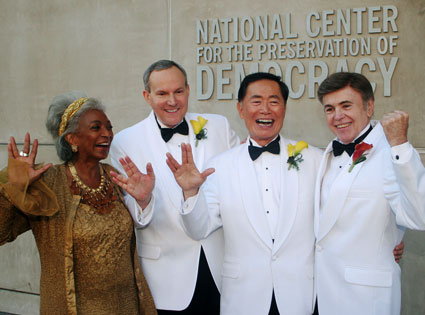 AP Images
Mr. Sulu is no longer solo.
George Takei has gone where no famous man (but two plenty famous women) has gone before, tying the knot with his partner of 21 years, Brad Altman, Sunday night in Los Angeles in front of 200 of their closest pals, including fellow Trekkers Leonard Nimoy, Walter Koenig and Nichelle Nichols.
Proving itself an equal-opportunity celebration in every regard, the 71-year-old Takei and the 54-year-old Altman swapped self-penned vows at downtown L.A.'s Japanese American National Museum, were married by a Buddhist priest, employed Native American wedding bands and marched to the ceremony courtesy of a bagpipe procession.
So, at least in spirit, Scotty was there, too.
"May equality live long and prosper!" the erstwhile Enterprise helmsman told the crowd on his way out of the ceremony.
"I can add 'my husband' to the list of things I call you," Takei said in his vows, which took place after the couple stepped into a circle of yellow roses. "I vow to care for you as you've cared for me…and to love you as my husband and the only man in my life."
The handsome duo donned matching white tuxes for their big day, which took place three months after they became one of the first same-sex couples, and certainly the first high-profile one, to obtain a wedding license in West Hollywood on June 17 after it was deemed constitutional to do so.
They follow in the footsteps of Ellen DeGeneres and Portia de Rossi, who tied the knot in a home ceremony last month.
The couple plans to honeymoon in South America, after their ceremonial first trip to the airwaves, appearing on CBS' Early Show Tuesday morning to share more details of their wedded bliss.