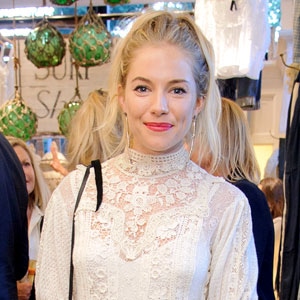 Nick Harvey/WireImage
Thanks to a little birdy her sister, we learned earlier this month that Sienna Miller is indeed pregnant with boyfriend (and supposed fiancé) Tom Sturridge's child.
But what the star's sibling, Savannah, failed to tell us when she tweeted the good news was when the actress is actually due.
Well, it looks like we now know.
A source tells E! News that Miller is expected to deliver her bundle of joy in...July!
But as the 29-year-old mother-to-be prepares to begin another new chapter in her life, she's also closing the book on another.
Miller and her sister have just announced that they will no longer serve as co-creative directors for the clothing label Twenty8Twelve.
"We have had a brilliant six years at Twenty8Twelve and are now looking forward to pastures new," the siblings said in a statement. "We wish the brand the best of luck for the future."
As a result of their departure, the label will now go by the name Twenty8Twelve London instead of Twenty8Twelve by s. miller.
"We've had a great partnership with the Miller sisters," said Nish Soneji, the collection's managing director. "Sienna and Savannah will forever be a part of Twenty8Twelve's history and we wish them all the best."
—Reporting by Ken Baker