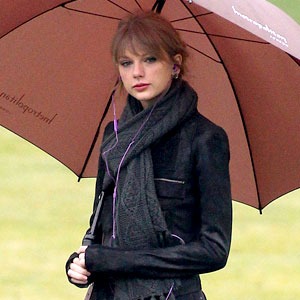 Optic Photos/PacificCoastNews.com
For Taylor Swift, stardom is clearly a walk in the park.
The pop phenom was spotted yesterday taking a leisurely stroll through London's Hyde Park, shrugging off gloomy weather with a large umbrella and listening to music on her iPod.
Swift looked ultra-relaxed in a black jacket, adorable cat-print skirt and black tights as she checked out the park's beautiful swans and bird sculptures.
But the pop star also made one important stop along the way…
En route, Swift swung by the Princess Diana Memorial Fountain, where she paused to read the memorial's plaque and pay her respects. Consider it a fitting salute from country music royalty to British royalty.
The day wasn't an all-out solo sojourn for the singer-songwriter, though. Per the Daily Mail, Swift also hit up West London's Portobello Road, popping into an antique shop and a chocolatier, where she snapped up some goodies.
Swift is reportedly in London to meet with über-producer Cameron Mackintosh about a starring role in the highly anticipated Les Misérables movie, which hits theater in December.
The film's A-list cast includes Russell Crowe, Hugh Jackman, Anne Hathaway and Sacha Baron Cohen, and it's already being touted as a big contender in next year's Oscar race.