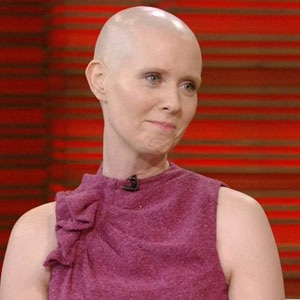 ABC
Cynthia Nixon is getting schooled on sexuality in the city.
In an interview printed in Sunday's New York Times Magazine, the actress said that, for her, homosexuality "is a choice."
Cue the concern.
"I'm gay, and I was born this way," celebrity chef Cat Cora said on The Talk today, when Julie Chen inquired about Nixon's interview. "So, I really feel like it was dangerous and irresponsible of Cynthia, especially in this environment today when so many young people are taking their lives.
"I know growing up as a young gay person how much you hate yourself," Cora continued, "how much you already think you're different. And for someone to say, 'It's a choice, you can be this way or that way,' I think it's dangerous and I ask Cynthia to please, reach out to the community and say—to all the people who do hate themselves right now, all the young kids who are impressionable—to say, 'You're OK, take it one day at a time, it gets better.'"
The Talk cohost Sara Gilbert found Nixon's remark "a little risky," to be sure, but she acknowledged that Nixon was approaching the topic as someone who has been in long-term relationships with both men and women.
In the original interview, Nixon was lamenting the fact that human beings are judged at all for their sexuality, saying "it doesn't matter if we flew here or we swam here, it matters that we are here and we are one group and let us stop trying to make a litmus test for who is considered gay and who is not."
A spokesman for the Gay & Lesbian Alliance Against Defamation had no comment, but in a Huffington Post piece titled, "In Defense of Cynthia Nixon: Why 'Born This Way' Doesn't Matter," Windy City Times (a leading LGBT publication based in Chicago) editor Tracy Baim writes: "The bottom line is that those who hate us, want to cure us, or even kill us don't really take the time to understand these nuances.
"Yes, there are some who advocate a 'nature made us this way' argument to help us accept ourselves," Bain writes. "But others still try to get gays to suppress their sexuality, or transgender people to suppress their gender identity, no matter how they got that way."
In an interview with the Daily Beast posted today, Nixon says that she doesn't like using the word "bisexual" to describe herself, either.
"I just don't like to pull out that word," said the Sex and the City star, who was sporting a bald pate today on Live! With Kelly for her latest Broadway role. "But I do completely feel that when I was in relationships with men, I was in love and in lust with those men. And then I met [girlfriend Christine Marinoni] and I fell in love and lust with her. I am completely the same person and I was not walking around in some kind of fog. I just responded to the people in front of me the way I truly felt."