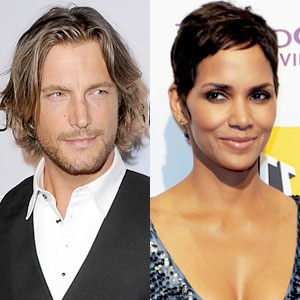 Jason Merritt/Getty Images; MARK RALSTON/AFP/Getty Images
This could get ugly. Not that we'd get to see it.
Halle Berry and her baby daddy ex Gabriel Aubry both turned up in Los Angeles Superior Court this morning for an emergency closed-door hearing on whether or not, as reported, Aubry was involved in a physical altercation with the nanny to their 3-year-old daughter Nahla.
According to reports that the Los Angeles Police Department refused to verify (as no arrests were made), the male model is accused of shoving the nanny when she was holding the girl. Hollywood police confirm to E! News that a report was filed on Jan. 19, but would neither release a copy of the report nor confirm if Aubry was mentioned within it.
Nanny Alliance Kamdem nevertheless filed for a restraining order against Aubry, claiming she was "psychologically traumatized" on the job and that within a week of working, Aubry became verbally abusive and aggressive toward her. She claims that he "violently pushed her" on Jan. 18, thus prompting the court session.
However, the judge today denied her request for the order, claiming there was no proof of future harm and that she failed to show proof of harassment.
Both estranged parents arrived to court today flanked by their high-powered attorneys, with Aubry the first to arrive in a slim-fitting gray suit accompanied by lawyers Gary Fishbein and Kristina Royce. Berry soon followed, donning a more casual courtroom attire of jeans, leather jacket, brown scarf and, of course, her crutches.
As it happens, that scarf may have come in handy as the vibe inside the courtroom certainly appeared to be ice cold with neither Berry nor Aubry so much as looking at each other prior to the start of the proceedings.
Shortly after the hearing was called, Judge Scott Gordon sealed the courtroom and booted media from the premises.
The hearing lasted roughly 40 minutes, and while it's unclear who emerged victorious, it certainly appeared as though Halle was the most pleased of the assembled bunch, walking out of the courtroom with a big smile on her face, albeit without speaking to reporters.
For his part, Aubry emerged a short time later and left through the garage.
—Reporting by Baker Machado