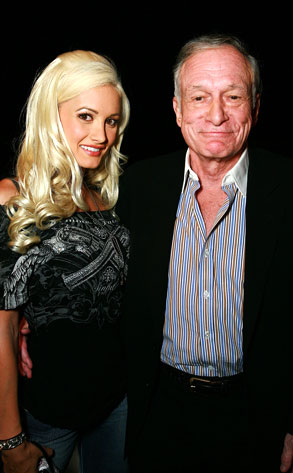 Tiffany Rose/Getty Images
TheDirty.com's report to the contrary, Hugh Hefner's alpha girl, Holly Madison, is not moving out of the Playboy Mansion. And she is not hooking up with sleazy magician Criss Angel, either.
"I really don't know where this stuff comes from," Kevin Burns, executive producer of The Girls Next Door, tells E! News exclusively. "Holly has not moved out and has no plans to do so. She is very much busy supervising and editing Playmate shoots at Playboy Studios West. She's also been working with my company on several new ideas for Playboy-themed TV shows and specials."
He continued, "Holly's trips to Vegas have been 'mini-vacations' to hang out with friends and to scout for the magazine. She's just having a good time."
Crisis averted: The end of GND as one of TV's best guilty pleasures is not nigh, and more importantly, the Playboy empire of high-class hoochie will not want for a queen. Whew.