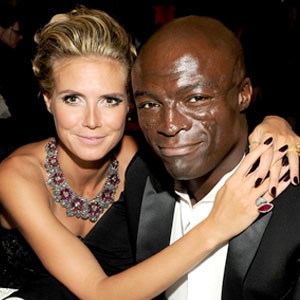 Frazer Harrison/Getty Images
All good things must come to an end, and Heidi Klum's marriage is officially un-Sealed.
After seven years of marriage, the supermodel and the singer announced yesterday that they had "grown apart" and were, as always, amicably separating.
Guess renewing your vows every year isn't so much a safeguard as a red flag. We take a look at the not so divine side of their love with a look back at the way they were:
2004: Heidi and Seal meet in the lobby of a New York City hotel. The Project Runway star later recounted the tale of their first encounter (in which the "Kiss From a Rose" singer infamously wore a pair of tight-fitting bicycle shorts) on The Oprah Winfrey Show: "He came in just from the gym and I was sitting there and I was, like, wow. And I pretty much saw everything. The whole package." The romance seemingly began at quite an inopportune time—she was pregnant with daughter Leni, her child with racing car owner Flavio Briatore.
May 4, 2004: Heidi gives birth to Leni with Seal by her side. He quickly assumes fatherly duties and even dedicates his next album, Best: 1991-2004, to "my daughter Leni."
Dec. 23, 2004: Just two days before Christmas, Seal makes sure to make Heidi's holiday season a memorable one. Raising the bar for husbands-to-be everywhere, the singer pops the question during a romantic ski holiday in which he had an igloo built especially for the occasion.
May 10, 2005: In front of about 40 guests on a Mexican beach resort, the couple—already expecting their first child together— tie the knot. It was the second trip down the aisle for Klum, who previously spent five years married to hairstylist Ric Pipino, and the first for Seal.
Sept. 12, 2005: The couple's first biological child together, Henry Gunther Ademola Dashtu Samuel, is born.
May 10, 2006: The couple begins their infamous practice or renewing their vows every year on their wedding anniversary. Every. Year.
Nov. 22, 2006: Their second son, Johan Riley Fyodor Taiwo Samuel, is born.
Oct. 9, 2009: The couple welcomes daughter Lou Sulola Samuel.
Nov. 21, 2009: Heidi Klum officially adopts Seal's surname and is legally known as Heidi Samuel. She continues to go by Heidi Klum professionally.
December 2009: Seal officially adopts Heidi's daughter Leni, and the girl's surname is  also changed to Samuel.
September 2010: Looking as strong as ever, the happy couple appear together in Seal's romantic and slightly risqué music video "Secret."
August 2011: The family vacations together in Ibiza. Tabloids retrospectively peg this trip as the beginning of their relationship troubles.
October 2011: The couple hosts their (formerly) annual blowout Halloween party, one of their last joint public appearances.
Dec. 26, 2011: In what seems to be the last time the couple are seen together, Heidi tweets out a photo of the duo on holiday in Aspen.
Jan. 15, 2012: Seal is nowhere to be seen as Heidi attends the Golden Globe awards solo.
Jan. 18, 2012: While Klum is alone in L.A., Seal makes the promotional rounds in the U.K. for his new album, pretaping a performance of the now poignantly named "Backstabbers" to air on The Jonathan Ross Show over the weekend.
Jan. 20, 2012: Rather cryptically, Seal sends out a tweet reading, simply, "The End."
Jan. 21, 2012: Rumors of an impending split between the couple reach a fever pitch, flooding the Internet.
Jan. 22, 2012: Finally breaking their silence, a rep for the couple confirms they have separated, though divorce papers have yet to be filed:
"While we have enjoyed seven very loving, loyal and happy years of marriage, after much soul-searching we have decided to separate. We have had the deepest respect for one another throughout our relationship and continue to love each other very much, but we have grown apart. This is an amicable process and protecting the well-being of our children remains our top priority, especially during this time of transition. We thank our family, friends, and fans for their kind words of support. And for our children¹s sake, we appreciate you respecting our privacy."