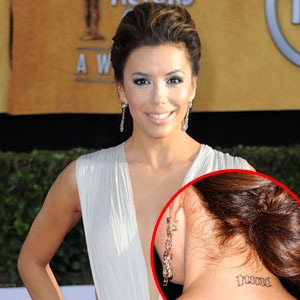 Frazer Harrison/Getty Images, Julien Hekimian/WireImage
Who says you can't erase the past?
Long after dropping the hyphenate, Eva Longoria is excising the remaining traces of her marriage to San Antonio Spurs baller Tony Parker—she's having her Tony-celebrating tattoos removed!
Sources tell E! News that she is undergoing the multiple treatments it takes to fully remove permanent ink, which in Longoria's case include the word "Nine" (Parker's jersey number) on her neck, her wedding date on her wrist and his initials...somewhere.
What a difference a year makes, right?
Last January, the Desperate Housewives star wrote on Facebook, "Nothing is being removed, although I am always up for more tattoos!"
But maybe her current fellow, Eduardo Cruz, didn't want to share real estate on his girlfriend's skin—in case she decides to commemorate their romance in an inky fashion, that is.
According to TMZ, Cruz accompanied Longoria to an appointment at a Dr. Tattoff clinic, but the actress' reps would not comment on the report.
Longoria filed for divorce from Parker in November 2010 after more than three years of marriage.