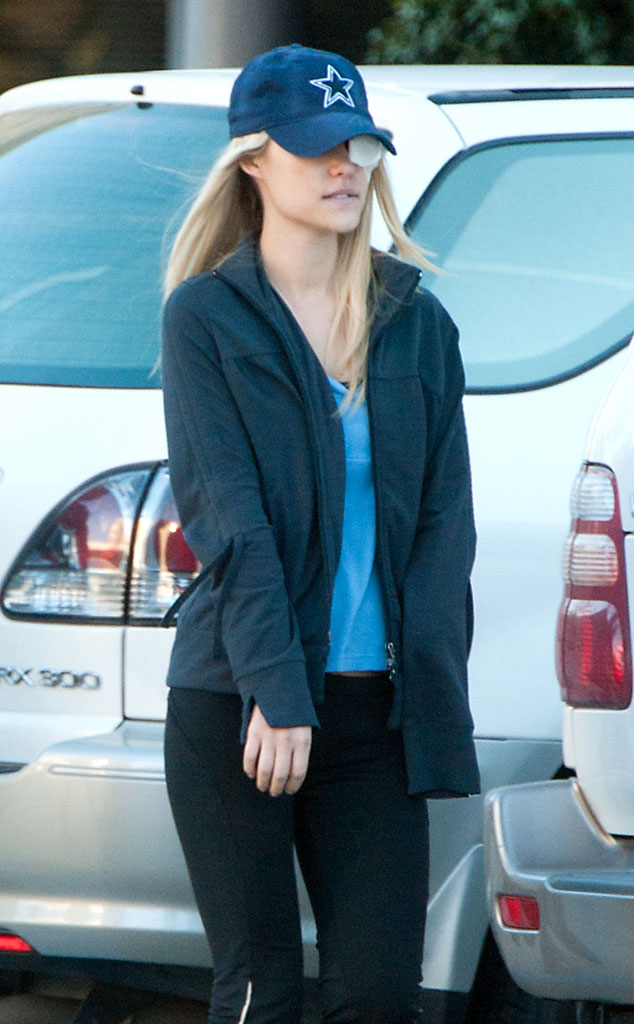 Stern/DoubleVisionMedia
Lauren Scruggs has not only survived, she's thrived.
As if it wasn't remarkable enough that the part-time model and fashion editor made it through her horrific accident last month in which she unknowingly walked into a plane's propeller, new photos released this week—the first taken of Scruggs since her Dec. 3 accident—show just far she's come.
The photos and video were taken on Tuesday, and show Scruggs leaving her rehab center, the Baylor Institute for Rehabilitation in Dallas, while surrounded by her family.
All the more inspiring is that the fashionista, who tragically lost both her left eye and left hand in the incident, was walking without help.
Scruggs wore an eye patch over her left eye and kept her arm hidden from view as she made the short trek from the rehab center to her family's car—all while her trademark blonde locks remained visible from under a Dallas Cowboys baseball cap.
Lauren's mom, Cheryl Scruggs, has been keeping a blog of her daughter's traumatic ordeal and journey through it, and wrote yesterday of her battle with staying positive for Lauren's sake.
"I'm burdened for my sweet girl. It's hard to watch the reality face to face, even though we KNOW that God will never leave us or forsake us. We know all of the 'right answers.' But it doesn't change what happened, and it is just plain hard to watch Lo come to grips with the fact that she has lost her hand and her eye.
"It's hard to hear her tears…God help us today………we need it."
In the six weeks since the accident, Lauren has undergone—and will continue to undergo—intense therapy to relearn basic skills, but according to her mother has been making tremendous progress—something that's even more remarkable given the considerable, unfathomable pain she's also in.
"Please continue to pray for her pain," Cheryl wrote last week. "At times it subsides; at other times it is excruciating. Hard to know what it's going to be from day to day."
Anyone wishing to make a donation or leave a message for the family can do so through the Lauren Scruggs Hope Fund.