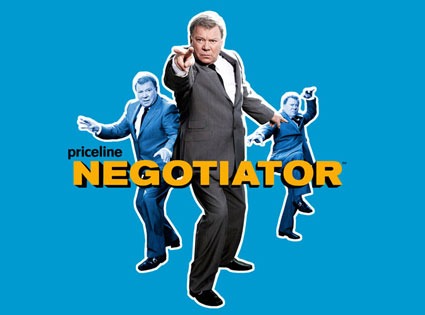 Where's Spock when you need him?
Unlike 2006's Priceline ad that saw William Shatner's Negotiator unceremoniously fired as pitchman by fellow Star Trek alum Leonard Nimoy,  the company has now killed off the iconic character as part of a major rebranding.
But at least Shatner's flaming out in style. Literally.
Let's roll the tape...
In the 30-second commercial that just went live online and begins airing on TV Monday, Shatner's Negotiator is negotiating his way through a very sticky situation as he comes to the rescue of passengers on a bus teetering on the edge of a cliff. 
"Maybe vacation's not a good idea," quips a woman about their predicament.
Enter the actor, who stands at the front of the bus and fires back: "Vacations are always a good idea."
The Negotiator then hurries the people off, leaving them with one final message as he and the bus go tumbling over the side and explode into flames: "Save yourself some money."
Ironically, it's a death that's far more gruesome than the demise Shatner's alter ego Captain Kirk met in 1994's Star Trek: Generations—and marks the end of a lucrative job the 80-years-young actor will no doubt miss, considering he's been playing the spry Negotiator going on 14 years now. (Shatner shouldn't be too choked up, especially considering he was awarded company stock that's worth millons.)
The end of the character is part of a change-up by Priceline in its advertising strategym, which is refocusing from am emphasis on the bidding to more of a destination for a suite of travel options.
As for Shatner, he's boldly headed to Broadway next month where he's opening his one-man show, Shatner's World: We All Just Live in It, at the Music Box Theater.