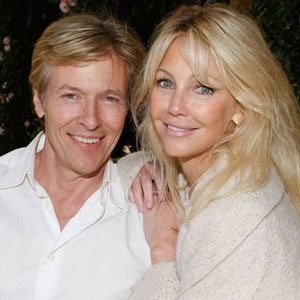 Michael Buckner/Getty Images
To say Heather Locklear has had a rough start to 2012 would be something of an understatement.
Though the O.G. Melrose Place actress was finally released from the hospital last week, she's once again down on her luck, as it emerged today that she and her ex-fiancé Jack Wagner could face misdemeanor battery charges over a physical altercation that went down between them late last month.
Los Angeles City Attorney spokesman Frank Mateljan confirmed that the former duo was due to attend a hearing at an unspecified (though soon) date to determine what, if any, charges will be filed. One, both or neither could wind up facing misdemeanor battery charges.
Though the spokesman was quick to point out that as it stands now, both actors' records are clean. Well, at least in terms of this particular incident.
"No criminal charges have been filed relating to this matter," Mateljan told E! News. "A City Attorney Office hearing for the two individuals involved will be scheduled in the next couple of weeks. No further action is scheduled after that."
As for the actual hearing date, that has yet to be set.
The incident took place in late December at Wagner's home. According to reports, an argument between the duo turned physical and cops were called to the scene. At the time, neither opted to press charges against the other, but the case was nevertheless forwarded to the City Attorney for review.
Hmmm...maybe February will be Locklear's month?
—Reporting by Baker Machado