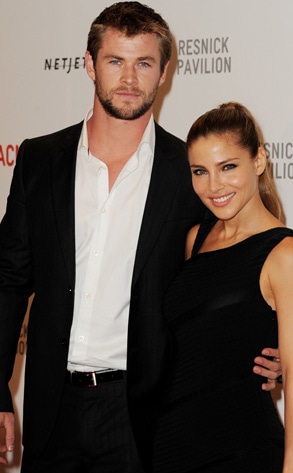 Kevin Winter/Getty Images
Get ready for Thor Jr.
By the hammer of ye gods, Avengers star Chris Hemsworth and his hottie Spanish actress wife, Elsa Pataky, are expecting their first child, E! News can confirm.
"Chris and I are delighted, very happy and excited," his missus tells Hola! magazine.
Their little bundle of joy is due sometime this spring, just in time to be a big topic of conversation as he does press for The Avengers, which is out May 4.
No word yet on the child's sex because they duo prefer it to be a surprise.
"Our only desire is that it be healthy," she says, though she did add that her Aussie hubby better brush up on his Spanish since she aims to teach the language to their child.
No doubt if it's a boy, he'll come out swinging.
The 28-year-old Thor star and the Madrid-born Pataky, 35, tied the knot in December 2010 in Indonesia after meeting through their management firm.
Congrats to the happy couple!