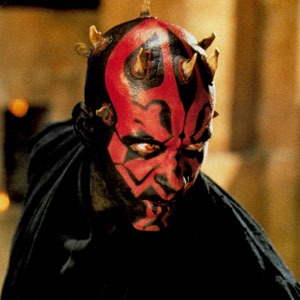 George Lucas probably wouldn't mind using the Death Star's planet-destroying laser on all the fanboys who keep blasting him for constantly tweaking his original Star Wars trilogy.
And now the Emperor Master Jedi tells the New York Times that he has no intention of making any more Star Wars movies because of all the fan carping.
So what prompted this turn to the Dark Side?
"I think there are more important things in the world," a wounded Lucas said in a profile promoting his longtime passion project Red Tails, chronicling the Tuskegee Airmen. "Why would I make any more when everybody yells at you all the time and says what a terrible person you are?" 
The 67-year-old flannel-clad filmmaker is referring to a revolt among diehards outraged by his constant changes to the decades-old movies. For instance, when he added Darth Vader shouting "Noooo!" to the finale of Return of the Jedi for the film's Blu-Ray release, or even more notoriously had Greedo shoot first instead of Han Solo in the 1997 "special edition" of Star Wars.
Lucas' alterations to the classic series, without the slightest consideration for supernerd feelings, even prompted a documentary on the subject entitled The People vs. George Lucas, which presented a courtroom-style indictment of his creative decisions.
But none of that fazes the director, whose definition of "final cut" is ever-evolving.
"On the Internet, all those same guys that are complaining I made a change are completely changing the movie," argued Lucas, pointing to irate acolytes who have taken to YouTube posting their own re-edits. "I'm saying: 'Fine. But my movie, with my name on it, that says I did it, needs to be the way I want it.'"
Perhaps that has a lot to do with Lucas' decision to stop making blockbusters and return to making the kind of more personal, experimental films he was making in the '70s.
Of course however, the mogul has left himself an exception—the possibility of shooting one final Indiana Jones movie, which he's currently developing. And that could be even riskier than the last installment, Indiana Jones and the Kingdom of the Crystal Skull, which was the least well-received of the four Indy flicks.
No doubt, fanboys will be arguing over that film too if it ever gets made, not to mention Star Wars: The Clone Wars on the Cartoon network and a live-action TV show he's got in the works.
But before they do that, the debate over Lucas' Star Wars legacy is already starting anew as the helmer is set to unspool the sextet in 3-D. The films will be release one a year, beginning next month with Star Wars: Episode I—The Phantom Menace.
May the Force be with him.