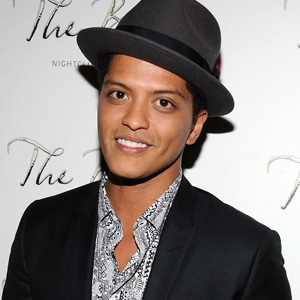 Angela Weiss/WireImage
Bruno Mars has a clean slate.
The Grammy-winning  "Grenade" singer's felony cocaine-possession charge was wiped from his record after he put in some serious community service.
A Las Vegas judge erased the charge after confirming that the 26-year-old Mars (real name: Peter Hernandez) completed more than 200 hours of community service, paid a $2,000 fine and completed eight hours of drug counseling.
Mars was busted in September 2010 at the Hard Rock Hotel in Las Vegas after a bathroom attendant told security someone was using narcotics in a stall. Last January, Mars pleaded guilty to felony cocaine possession to avoid jail time.
Because he was a first-time offender, he was eligible to have his rap sheep cleared after completing the terms of his plea.
Ironically, the Vegas deputy D.A. who first prosecuted the "Nothin' on You" crooner was fired last March after his own cocaine bust.