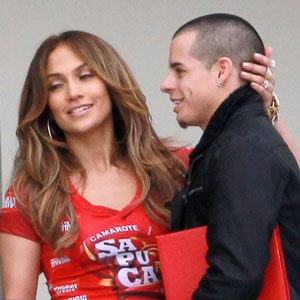 Bruja, PacificCoastNews.com
Jennifer Lopez may be 18 years older than Casper Smart, but who cares?
They certainly don't.
And they've taken to Twitter to tell everyone...
"Age, status, n opinions of others are irrelevant. Our hearts are endless and our souls infinite," Smart, 24, tweeted early this morning. "Our ages are mere reminders of the hours logged on this earth and the precious time remaining."
He continued, "We should all honor our time here by indulging our passion and dreams. So, close your ears and open your hearts; Love and be happy!"
In true love 21st century style, J. Lo retweeted the messages.
Although Smart has tweeted about the relationship before, this is the first time the 42-year-old pop singer has publicly acknowledged the romance.
When one of Smart's followers tweeted that she loved when he posted last night, he immediately replied, "Love that you love it. Good friend sent it for me and thought it was beautiful and perfect!!! #truth."
The tweets come just a couple of days after Smart was spotted with Lopez while she was filming a Brazilian beer commercial in Los Angeles.