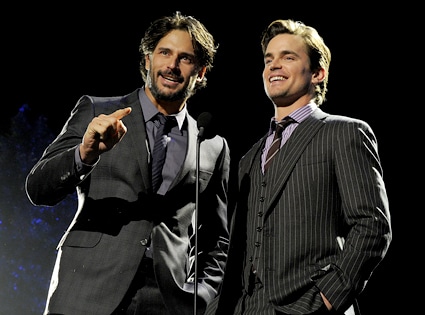 AP Photo/Katy Winn
White Collar returns tonight, finally giving fans some resolution after last year's doozie of a cliffhanger: Peter's wife Elizabeth (Tiffani Thiessen) was abducted by one of the show's most spine-tingling big bads, Keller.
So will we see Tiffani again? What upcoming cliffhanger could possibly (gulp) top this one? Also, what exactly is it like working out with (guest star and Magic Mike star) Joe Manganiello? Here's what stars Matt Bomer and Tom DeKay tell me…
"Do you really think we're not going to see someone as beautiful as Tiffani Thiessen on this season?" Matt muses.
Fair point. And while they clearly didn't want to give away how we see Elizabeth again, Bomer promises of tonight's return: "You're going to get a good inkling as to where she might be. A good deal of resolution the first episode back."
"That's what's great about our cliffhangers it that they are resolved quickly," DeKay adds. "So fans are satisfied and we move on."
And if you thought the Elizabeth-napping storyline was a jaw-dropper, just wait til you see what's happening at the end of this six-episode run. "They are some really great episodes that ramp up to the biggest cliffhanger we've had on this series," Bomer teases. "I'm still wondering how we're going to write ourselves out of it."
True Blood's Joe Manganiello is coming on the show this season to play a new neighbor for the Burkes, and Bomer teases: "We have this really cool Rear Window-esque episode where Elizabeth is suspicious of some new neighbors after something goes down. He plays an ominous, suspicious neighbor."
Manganiello and Bomer also co-star in the much-talked-about skinfest movie Magic Mike, and Bomer says he has hit the gym with Manganiello on at least one occasion.
"I have actually worked out with Joe," Bomer tells me. "I've known Joe for 15 years and we've seen each other in so many embarrassing circumstances, that for me, to have one more by trying to work out with him was no big deal!"
Anyone wish to have been a fly on that gym wall? Yeah, didn't think so.