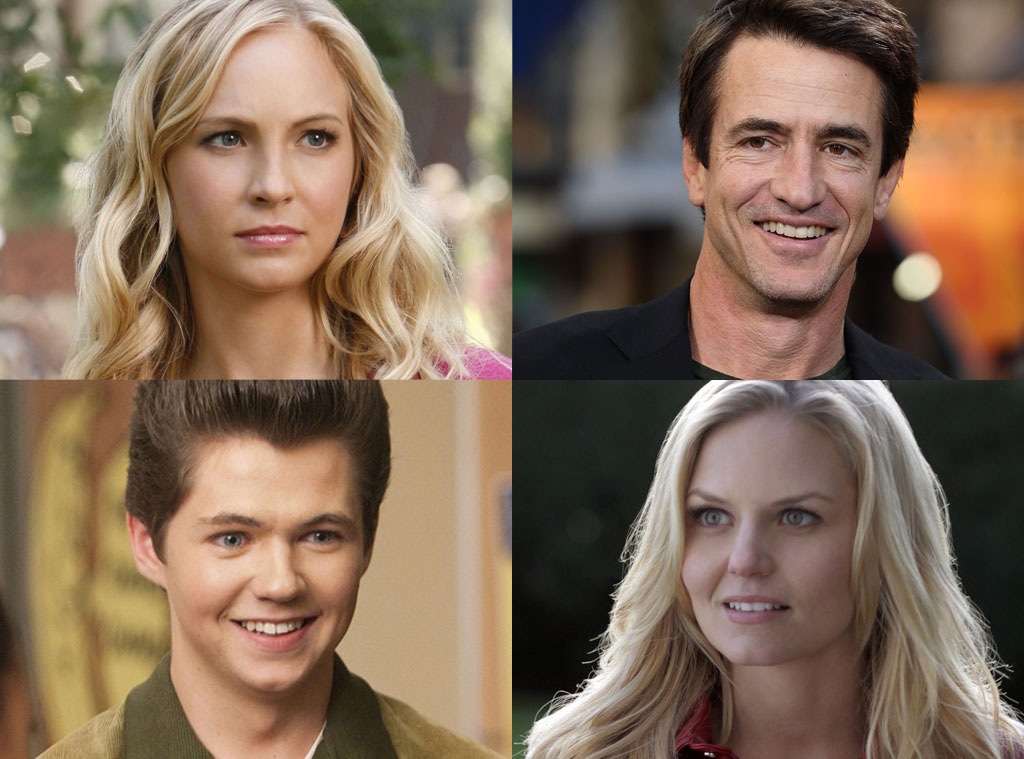 FOX, ABC, CW, Noel Vasquez/WireImage.com
The Vampire Diaries has turned into a game of romantic musical chairs lately, with couples splitting up, kissing and biting each other every episode. We loves it.
Luckily for you, we've got scoop on your favorite TVD couples, old (Stefan and Elena) and new (Klaus and Caroline). Another show that likes to switch up its couples? Glee, and we've got the scoop on Rory's (Damian McGinty) new love interest and whether or not he's going to come between fan favorites Brittany (Heather Morris) and Santana (Naya Rivera).
If that's not enough romantic goodness, we've also got word on what's ahead for Chuck (Ed Westwick) and Blair (Leighton Meester). Plus, we've got scoop on Revenge, Once Upon a Time, New Girl and more!
Nellygirl: How about some Chuck and Blair scoop for Gossip Girl!
The show returns tonight! Executive producer Josh Safran shares this tease on the episode: "It's obviously a culmination of the Blair storyline and all her men and that will come to a head. A decision will be made and stuck to, so that finally sort of drawing a line in the sand I think is something major to look forward to." Hear that? Whatever decision she makes tonight will be "stuck to" according to Safran, so maybe Blair's romantic fate becomes clear tonight? Maybe?
Monica: Thanks for the Damian McGinty video and romance scoop! Wondering if we'll see the other Glee Project winner, Samuel Larsen, any time soon?
Damian says as far as he knows, Samuel is still set to appear this season. "There are only seven episode left [to shoot], so it has to be soon!" In the meantime, check the Glee music section of West Hollywood's Target store, where (true story) I spotted Samuel singing Glee tunes to "himself" right before Christmas. Ryan Murphy, let's get him on the show, eh? Kid needs a new hobby. Oh and BTW, Damian also said they are still shooting that Michael Jackson episode. It's been more than a month!
virgo119: I will rage against the Glee writers if they try that crap with [Rory] coming between Brittana. We haven't even gotten a kiss.
Simmer down now, sassy pants! Watch the Damian McGinty interview! It's very clear he's not talking about Brittany or Santana and specifically says of Rory's past feelings for Brittany: "Brittany is with Santana and so she is kind of off the market." This is why you must watch the video, friend! And I hear ya on the kiss.
Gail: Thanks for the scoop on the next episode of Glee, but can I squeeze a bit more scoop from you about Finchel?
What happens in tomorrow's episode with Finn (Cory Monteith) and Rachel (Lea Michele) is not a bad thing, so forget any rumors about a breakup that you hear on the magic computer box (Internet). We'd tell you more, but the episode is so chock full of twists that we wouldn't dare spoil a thing for you.
Jake in Alexandria, PA: What is all this stuff I keep hearing about a new girl coming to HIMYM for Barney?
Get excited suit-lovers, because Barney (Neil Patrick Harris) is going to finally meet his match! Creator Craig Thomas says the legendary lady known as Quinn played by Becky Newton will appear in episode 16. "Ted (Josh Radnor) drags Barney along on a double date and Ted's double date goes nowhere but Barney can't stop thinking about this girl Quinn who completely hates Barney and completely sees through him." Craig teases that she'll be "a bit of a puppet-master and Barney sort of falls under her thralls. The inventor of the playbook is being played." Things are about to get crazy in MacLaren's!
Theresa: HIMYM scoop please!
Leave it to Barney to try and hook up with Marshall (Jason Segel) and Lily's (Alyson Hannigan) new crazypants neighbor (much to the couple's chagrin) who may or may not have stabbed a former lover with a cheese knife. Some mountains are too big for even you to clim, Mr. Stinson. Consider this your Everest.
Gina in Rockford, Ill.: What do you have on Dermot Mulroney guest role on New Girl?
Someone that handsome? He's clearly romancing Jess (Zooey Deschanel). Just how much will he be wooing her? We had to know, so we asked him at the premiere of his movie, The Grey. "I don't know yet. As much as I can possibly get out of her! Depends on what they allow," Mulroney laughs. And he tells us that he'll have "a couple" or "three" episodes to do just that.
Ed: Any word on who from American Horror Story's first season will be coming back for season two?
Not yet, but we're hoping to hear about it sooner rather than later. As soon as we start getting whispers about returning castmembers, we'll call you. But in the meantime, we have good news for fans of Taissa Farmiga's character, Violet: She'd come back in a heartbeat! "It's an amazing cast," she tells us. "I know some will be different, and some will be new. But I love the people. I'd love to come back." Fingers and toes crossed!
Moosewithagoose: Could you ask around about possible Stefan/Caroline scenes on TVD? Would be much appreciated, thank you!
Been there, done that! We chatted with Candice Accola who tells us she's a "big fan" of scenes between the two, but says "as of right now there hasn't been a lot of interaction" between Stefan (Paul Wesley) and Caroline. Boo! Hiss! As for a romance between the two, Accola says it seems unlikely. "I think that would be extremely complicated," she tells us. "I can't really picture that in reality as being something that would happen anytime soon, if ever." 
occamsrazor0: something about the Original family, por favor!
As most Vampire Diaries fans know, we'll be introduced to two new brothers soon and here's what Joseph Morgan could tell us when we caught up with him. "I have a very different relationship with Kol than I do with Finn. When you get the whole family together, it's really charged." The whole family? Things that make you go hmmm… When we poised the idea of an Originals spinoff to our favorite hybrid, he tells us he's pulling for it "unashamedly."
Jessica: When is Stefan going to find out about that kiss between Elena (Nina Dobrev) and Damon (Ian Somerhalder)?
Very soon. As in, this  week soon!
Margie: Dying for Klaus and Caroline scoop!
Nothing between them in the next episode. Sad trombone! Klaus will have his hands full trying to get the coffins back. But there is a great storyline involving Tyler. Also, Bonnie's Mom and Caroline's dad both show up in the next episode. One to help their child, one not.
ABC/CHRIS HELCERMANAS-BENGE
tiffanyrush: Anything on Once Upon a Time!
Prepare to meet Jefferson, a former criminal in the fairy-tale world who is extremely handsome. (Aren't all TV criminals?) In Storybrooke, he's a mysterious figure who is in the know about a certain curse and attempts to sway Emma (Jennifer Morrison) into believing as well. 
fotreya: Something about Once Upon a Time, about Snow and Charming! Any scoop?
David (Josh Dallas) is about to make a big decision regarding his love life that should make David and Mary Margaret (Ginnifer Goodwin) very happy.  
anywherewhimsy: Parenthood anything and everything
A baby is coming! Expect coffee girl Zoe (Rosa Salazar) to give birth in the show's 17th episode. 
Candice in Newport Beach, Calif: Some Big Bang Theory scoop would make my day!
Thursday's 100th episode of The Big Bang Theory is almost here and we have absolutely nothing to tell you…aBazinga! Of course we do! Kaley Cuoco revealed to us, "It's like nothing we've ever done before, it's kind of a mind game and you wont figure it out until the end, it's really interesting, it's special, it's different." The Leonard and Penny relationship will be "teased" in this episode and Cuoco says she's keeping her fingers crossed they'll give it another go, "At the end of the day I want it to work and I think everyone wants to know the love of their life lives next door." Awww!
Brunettenoel: Revenge!
Quick and to the point, we like that in a reader. In addition to casting that high-profile defense attorney we told you about last week, Revenge is also casting the role of a very serious judge for episode 16 and beyond, so it looks like the murder trial will be moving very quickly. Color us excited!
whorelips: Will Nolan from Revenge have another love interest that isn't a crazy gold digger?
Gabriel Mann told me he lobbies all the time for Nolan and Ashley to get together (much to Ashley Madekwe's dismay!). Anyone else kind dig that idea? It's almost as good as Nolan and Emily. Assuming they aren't, you know, also somehow surprisingly related.
Bridget: Any scoop on Misha Collins' return to Supernatural? I'm counting down the days!
You and us both, sister! We asked Jared Padalecki for the scoop on Collins' return when we sat down with him for some french fries. "He doesn't come back as Castiel per say. When he and the boys see each other, it's not like, 'Oh, Sam and Dean!' 'Oh, Castiel!' It's amnesia of sorts," he teases. "He's still got great powers and we seek him out because we have an inkling that something's going on. I think Castiel, like Bobby (Jim Beaver), they can't come back as the good ol' Castiel and the good ol' Bobby because the audience starts to not take seriously what's going on." Word, Padalecki. Word. 
Frank: Is Supernatural definitely coming back next year?
While both Padalecki and Jensen Ackles are contracted through season eight, the CW has yet to make a decision about the fate of Supernatural...or anything other show for that matter. "We are considering everything for next year. We have made no determinations on any of our shows," CW Boss Mark Pedowitz tells us. "I'm very happy with how Supernatural has done this year, in terms of ratings and production." He also says if they have more "juice" in them, he could see it going on for "many, many years." Our guess? It's coming back. 
Nathybozo: ANYTHING—especially naley—about One Tree Hill, go!
Well, when we got on the phone with creator Mark Schwahn about One Tree Hill's final season, he did mention that some couples might not be together anymore by the end of the series. But there's no way that Naley's in danger, right? Probably not as a couple, but Nathan certainly might be in a sticky situation this year. "He's used to controlling whatever situation he's in," James Lafferty tells us. "He has that taken away from him and it's a true test of his willpower and his character." Any guesses on what's going on with the man with the best arms on television?
indigo_15: Can you tell us anything about NBC's Grimm?
Don't you hate Skalengeck (lizard-esque creatures) who are addicted to drugs? The show is currently casting two Skalengecks who are addicted to "T" and will do anything to score their next fix.
irutter2011: Can we please have some Ezria scoop?
Pretty Little Liars' fan favorite couple Aria (Lucy Hale) and Ezra (Ian Harding) are back to their secretive ways after spilling the beans to her parents. "It's almost like they have to start back at square one. They're very creative with how they are going to pursue this relationship," Hale teases. "I think the fans will be pretty happy with it. These are two people who really love and care about each other."
Claire: Not sure how I feel about what's going on with Dave and Penny on Happy Endings. Are we going to see more of it in future episodes?
We asked creator David Caspe that very questions and he tells us, "We don't know." Helpful, we know, but he did say, "It was always something that we had thought about." Plus, if the show actually goes there with Dave (Zachary Knighton) and Penny (Casey Wilson), "it will be a slow development." Thoughts?
Scott Alan Humbert/The CW
Melissa: I am still waiting for some Make It or Break It scoop!
Fret not, Melissa. We haven't forgotten about the ABC Family show, which is currently casting the girls' new rhythmic gymnastic coach. Sounds simple enough, right? Wrong! He has a history with several girls and is harboring a major secret. 
chicanikki149: The new Hart of Dixie promo is AMAZING, specifically Wade confessing his feelings! Can we get a hint of Zoe's response?
We're thinking it's less than ideal after talking to the awesome Wilson Bethel, who tells us, "He does say some things, but let's say that context is everything." Creator Leila Gerstein teases, "They will continue to spar and fight as sparks fly. Things will happen or not happen." Even more bad news? Wade is getting a new love interest and Zoe (Rachel Bilson) will be seeing the vet again. Need something to dull the pain? "He's going to sing," Gerstein tells us of Bethel. Welcome to swoon city, people!
Sara: 90210 scoop!
We couldn't get executive producer Lara Olsen to tell us if Liam (Matt Lanter) survives his motorcycle accident, but she did offer this: "We'll find out [next episode] how things turned out," she tells us. "I think what's fun is [the accident] really launches a whole bunch of new things happening." Meanwhile, La Toya Jackson is set to guest star as a high-powered record executive. "[She] spots Dixon (Tristan Wilds) and Adrianna's (Jessica Lowndes) talent and wants to see them perform at a big outdoor music festival. It's a pretty exciting episode for Dixon and Adrianna's music career," Olsen says.
johnnyhoppp: Adrianna and Dixon scoop on 90210 please, also anything with Silver & Dixon?
We recently got a call from Jessica Stroup and she says there's still hope for Silver and Adrianna's friendship this season, "There is one situation that's going to come up and it involves Silver's new love interest Greg (Niall Matter). It's going to kind of bring her back together with Adrianna as friends and kind of open her eyes to what Adrianna's world has actually been for the last couple of years and maybe she didn't see that side of it." As for that Sixon scoop? You're going to have to wait 'til tomorrow shippers!
—Additional reporting by Tierney Bricker, Jenna Mullins, Leanne Aguilera and Marc Malkin