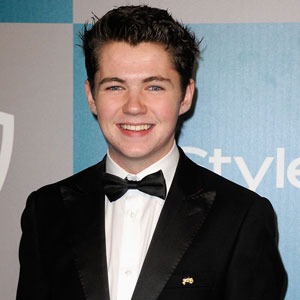 Kevork Djansezian/Getty Images
What upcoming Glee romance could possibly be so intriguing that Damian McGinty (Rory) actually blushed while talking about it!? And which Glee star was upset by yesterday's loss at the Golden Globes?
These were just two of the scoopy nuggets the adorable McGinty floated my way at HBO's fantastic Globes party last night, just a short while after Glee lost out to Modern Family. So who's hooking up on Glee? According to McGinty, it's the kind of romance that no one will see coming...
Damian's character Rory and…a mystery woman! And it sounds juicy, y'all.
"I want Rory to have a girlfriend," McGinty tells me, "and it could happen pretty soon, so watch out! I've seen the most recent script last week and yeah, there is [a new Rory romance]."
So why is he blushing? Not because of any kind of steamy sex scene, you (fellow) dirty-minded perverts. "I think [Rory's] a little innocent for that!" Damian says. "But I'm excited because the storyline is not as simple as Rory just getting a girl. He doesn't quite have the girl but he kind of does and then there's like a whole story behind it that is going to continue through the season where people might see a different side of Rory. I was interested in reading it! I only got half the script and when I saw the end of the first half my reaction was like, 'Uh-oh, oh no!" So it's a big shock, it's a big shock."
Fellow Gleeks, can we place our wagers now?
So which Glee cast member was truly upset by last night's loss? Check out the exclusive video above, where McGinty talks about that, the DOA spinoff, and so much more!