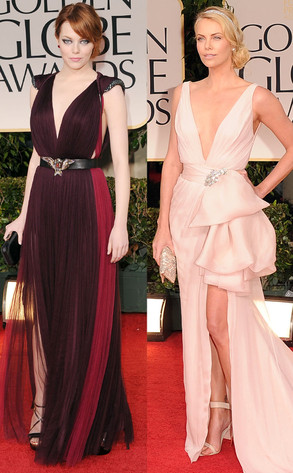 Jason Merritt/Getty Images
It's the battle of the plunging necklines!
Emma Stone and Charlize Theron bring some va-va-voom to the 2012 Golden Globes red carpet. The Help star looks fabu in a plum Lanvin design and the Young Adult nominee reminds us why she's the face of Dior in a pale confection by the fashion house.
So which gal gets your vote?
While you're indulging in our favorite pastime of pitting fashionistas against each other, check out E!'s Red Carpet Pose-Off.
Angelina Jolie vs. Jessica Chastain, Kate Winslet vs. Claire Danes, Dianna Agron vs. Reese Witherspoon—-who rocked the red carpet?
Make the call, then enter the Red Carpet Pose-Off Sweepstakes for a chance to win the ultimate glam pack: a blinged-out Erickson Beamon Bette Davis Eyes necklace and glittering Nadri Gold Five Row Hinge bangle!