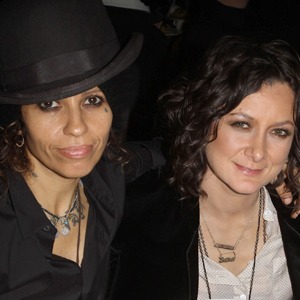 FayesVision/WENN.com
Sara Gilbert and Linda Perry's romance is coming along quite nicely.
"It's so awesome," Perry told me Thursday at the Critics' Choice Awards. "I would never have expected that me and her [sic] would be dating."
So what changed the former 4 Non Blondes frontwoman's mind?
"We met and we just instantly connected," the singer-songwriter turned producer said. "We're so alike but so different, too. It really works."
Sounds like Perry's getting along pretty well with the Talk cohost's kids, too. "Me and Sara dress alike and her daughter [Sawyer, 4] thought I was her the other night," she laughed. "We're short and we both have curly hair."
Are they hearing wedding bells already?
"I don't know," Perry said. "We gotta get through a year first. It's been eight months. We're going on nine. We haven't even lived together yet."
And hey, Perry may have to spend a nice chunk of time in New York City. She's currently working on the music for a Broadway musical based on To Die For, Gus Van Sant's 1995 movie starring Nicole Kidman, Matt Dillon and Joaquin Phoenix.