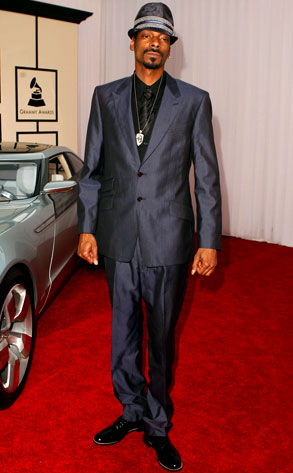 Jeff Vespa/WireImage.com
Snoop Dogg has found himself an unlikely wizard of Oz: Russell Crowe.
The rapper has finally been granted a visa to enter Australia, allowing him to embark on a long-pending tour Down Under, after a full character assessment by the immigration department that included, among other things, a letter supporting Snoop's application by the Oscar-winning actor.
"I submit to you that Snoop Dogg poses no threat to Australia or to any individual in this country," Crowe wrote in his letter to officials.
While the Aussie's epistle no doubt gave the 36-year-old reality star's file an A-list boost, it wasn't the only piece of information taken into account by the immigration officials.
"The department weighed his criminal convictions against his previous behavior while in Australia," the government said in a statement. "We took into account all relevant factors and, on balance, the department decided to grant the visa."
Officials added that Snoop's charity work, particularly with children, helped his case as will his now-required pre-takeoff prep.
"Mr. Broadus will need to abide by Australia's laws and he will be formally counseled before his arrival about his visa conditions and our expectations relating to his conduct."
The rapper, whose real name is Calvin Broadus, withdrew his visa application in May of this year after failing, in the wake of pleading no contest on gun and drug charges, to pass the character requirements for entry into the country.
He was denied permission to even apply for a visa back in 2007 due to his criminal record, resulting in his inability to cohost the MTV Australia Video Music Awards.
Snoop's 17-day Smoked Out Australian tour with Ice Cube and Thugs-N-Harmony kicks off next month.