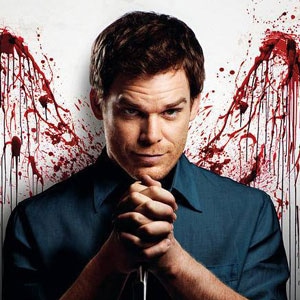 Showtime
Two more seasons, Dexter fans.
That's pretty much what Showtime boss David Nevins confirmed at the network's press tour today, where he addressed the future of the hit series starring Michael C. Hall. Did the controversy surrounding season six, including Deb's (Jennifer Carpenter) feelings for her adoptive brother Dexter (Hall), factor into the decision?
Plus, where is that storyline going? Here's what Nevins told reporters...
Nevins got right to the point during his opening remarks, saying that season eight "is the likely endpoint" for Dexter, but he was "open" for seasons past that. So yes, it's still possible that the show could go on beyond that, just not very likely. 
While the show's sixth season divided audiences thanks to Deb's romantic feelings for Dexter and a somewhat obvious plot twist with Edward James Olmos' character, Nevins believes the season finale's last scene will ultimately help the show toward its finish line. You know, that scene where (Spoiler Alert!) Deb witnessed Dexter killing Travis (Colin Hanks).
"I think there's a very clear trajectory now where they're going over the course of the next two seasons. I think it's going to help to write with that endgame in mind," he explains. "I've been pushing to shake up the formula a bit. I think there's going to be fundamentally different dynamic now that Deb has been given a huge reveal. It's time to shake up what Dexter goes through, so he's not such a lone wolf."
The Showtime executive is also aware of many viewers' aversion to Deb's feelings toward her adoptive brother. "Yeah, I'm aware that there's a certain taboo despite the fact that they're not genetically related," he says. "It's something that has been building for a number of years, I think. It's an idea that's informed how they've done the show for a long time."
Nevins also wants to clarify one thing: Deb's therapist was not encouraging her to date her brother, but "she did want Debra to start to deal with it, confront it and that led to the big reveal at the end of the season." He adds that the controversial storyline "will continue next season."
Nevins was asked if it was a concern of the network's that Carpenter and Hall, who divorced last year, would be playing love interests. "It makes for an interesting ripple in the show and I think the audience will figure that out. We've had conversations. [Michael and Jennifer] know what's going on. Michael and Jennifer have a really good relationship, so it's quite comfortable. That's been a conversation and it'll continue to be a conversation." 
Other highlights from the Showtime executive panel:
April 8: Mark that date down. That's when Nurse Jackie, The Big C and The Borgias return with new seasons.
Homeland: How can Showtime top an amazing first season of one of the best shows on television right now? "I think the writers have some very clever answers for that," Nevins reveals. "It's very fun to work on that kind of show where people are wanting to know what's going on and you're trying to stay one step ahead." As for plotlines for season two, Nevins only offered this: "Brody and Carrie have only just begun and there's an enormous amount unresolved, and I know one way or another that'll be a central issue in season two."
Weeds: The end is (maybe) near! The CBS boss would not confirm any decisions made about the Showtime series, only saying it's "not definitely" the last season, but it's a "real possibility."
Nurse Jackie: Nevins had more concrete statements regarding the future of Nurse Jackie. "I don't think it's fair to say [this season is the last.] [Jackie] start facing the consequences of her actions, and she does in a big way.  The feel of the episodes are slightly tweaked. It puts Jackie in a really interesting place. But I feel [the series] has life."
Would you like to see Dexter go beyond season eight? Do you think the show should drop the romantic storyline between Deb and Dexter? Sound off in the comments!