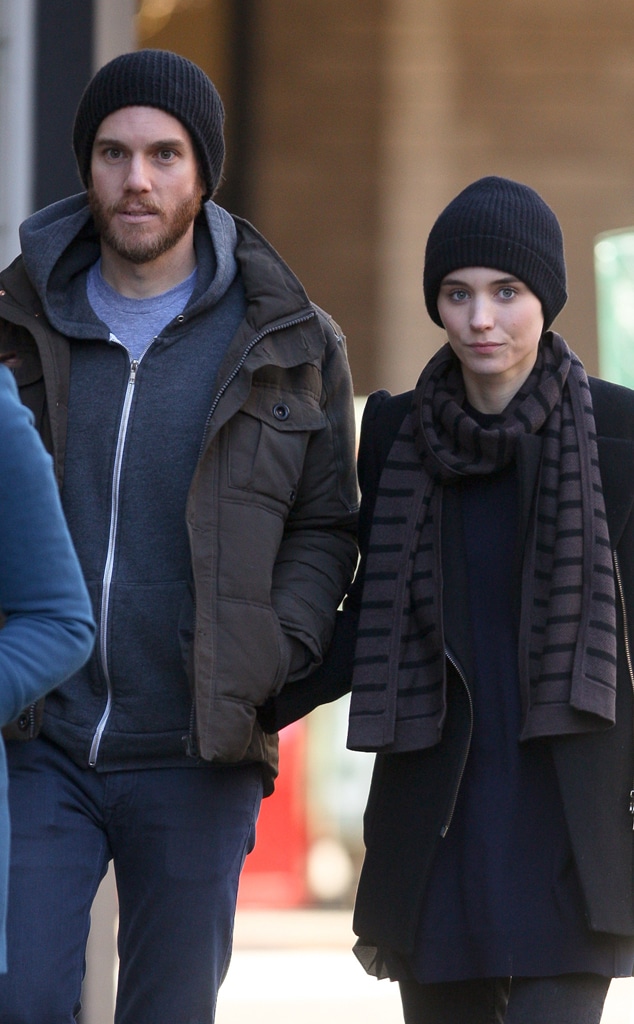 PPNY / GSNY / Splash News
Lizbeth Salander doesn't loath all men.
Rooney Mara, whose performance as the troubled yet super-fierce hacker in The Girl With the Dragon Tattoo is winning rave reviews, has recently been spotted out and about—and smooching—a guy by the name of Charlie McDowell.
And, because Mara is a rising movie star, Vogue cover girl, fashion plate, Golden Globe nominee, etc., we wanted to know way more about the fellow on her arm. You know, make sure he's up to snuff.
Here are five things we learned:
1. He's Got a Big, Fancy Family: If not exactly royalty, he's at least acting gentry, or something like that. Dad is multifaceted British thesp Malcolm McDowell (Charlie's full name is Charles Malcolm McDowell), mom is Mary Steenburgen and sis is Sons of Anarchy actress Lily McDowell.  Subsequently, his stepdad is Ted Danson. Malcolm had three more kids with current wife Kelley, so Charlie's got three half-siblings. Hey, Rooney gets it. Her sis is American Horror Story star Kate Mara and her parents are both scions of storied NFL-team power players.
2. When in Rome...: McDowell was born in L.A. and headed right into showbiz after studying film at Chapman University. The 28-year-old has written, directed and produced short films, toured with Ben Harper making a concert film, manned a camera at sporting events, served as a production assistant (and had a small role) on Curb Your Enthusiasm and was a consultant on the Ken Burns documentary series Baseball. Now McDowell, who became a directing fellow at the American Film Institute in 2005, has his own company, Cloudbreak Productions. He directed Danson and Lolita Davidovich in his 2007 short, Bye Bye Benjamin.
3. He's Adaptable: Mara is a born-and-raised New Yorker, and the majority of her and McDowell's photo ops have come on the streets of Manahattan, and one in Stockholm. Aw, what a good boyfriend, traveling around with her like that! Award season is heating up, though, and we'll be keeping an eye out for McDowell when Best Actress nominee Mara hits the red carpet at the Golden Globes on Sunday.
4. He's No Playboy (That We Know Of): McDowell's most recent high-profile flame was Tony winner Kristin Chenoweth and, before that, he was linked to Haylie Duff. That's about all the news he's made on the romance front.
5. It's a Miracle He Doesn't Have Nightmares: In an interview focused on his famous father he gave when he was about 21, McDowell said that his dad dressed him up as Alex from A Clockwork Orange when he was about 6 years old—though he never dressed as the brainwashed nutter for Halloween. "I think I would scare the crap out of people," McDowell said. "I've put on a bowler hat a few times and I almost scared myself! [My dad and I] look a lot alike."