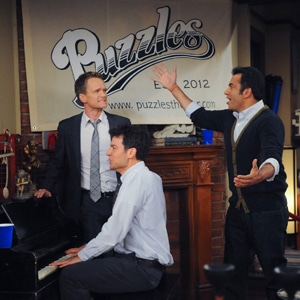 Ron P. Jaffe/FOX
The creators of How I Met Your Mother, Carter Bays and Craig Thomas, pull so many tricks and twists on their audience, it's hard to believe anything they tell us. After all, Robin's whole "storytelling to her kids" episode was a dream sequence, and that broke our hearts, dang it!
But there is someone on HIMYM that you can trust, and the answer may surprise you…
"Our rationale was that our narrator has never lied to us," Carter Bays says. "We take the stuff he says as gospel. Ultimately, it's a pretty reliable narrator. I think people can trust what Bob Saget says."
So we invite you all to go through every episode of HIMYM and write down what Future Ted has said. Then email us the notes. Thanks!
And of course the question everyone is always thinking came up: when the freak do we get to meet the mother? And will we meet her before the series finale? Bays and Thomas may not have given a straight answer, but the important thing is that they have the answer.
"We have it worked out," Bays reveals. "We kind of know what the endgame of the series is. It's obvious this show is around one central question, so that meeting will be part of the endgame of the show. How much the show will go beyond that, we can't really say one way or the other."
The casting of the mother is "very tough" for the HIMYM team. "There's one school of thought where she turns around and it's Jennifer Aniston, some huge star. Or you might want someone you've never seen before."
Other highlights from the HIMYM TCA presentation:
Bays and Thomas have "talked about" when to end the series, and they definitely plan on letting fans know when the end is coming. "I would imagine going into the final season we'd probably hint people to that. I think we're keeping undecided as for now and we'll see how things shake up."
Jason Segel is also on aboard if the show goes past his contract. "I really agree that I'd like to see the story come to its natural end, whether it's 8 years or 9 years. I was so relieved when I found out there was an actual plan," he laughs.
Ted (Josh Radnor) will eventually address why he is no closer to getting married since Lily and Marshall's engagement in season one. "We're going to see Ted do that exact assessment. He's going to come up with what he thinks is the answer and then we're going to explore whether it is the right answer for him. There's big soul searching going on for Ted in episode 16, 17 and 18," Thomas reveals.
How will the gang manage to all hang out together in the bar with Lily's baby situation? "We have a solution to that and you'll see how it unfolds," Bays teases. And though Marshall and Lily are hanging out a lot in the East Hampton house, they might not permanently shack up there. " We're going to explore them realizing it's isolating living in the suburbs. Its not necessarily a permanent stop."
Do you think the mother should be a big well-known star or an unknown? When do you think HIMYM should wrap up?