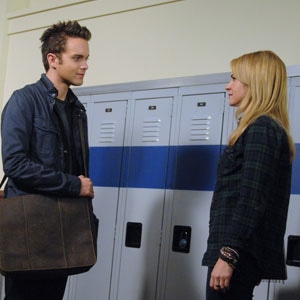 Sergi Bachlakov/The CW
Remember that time everyone kept saying Adam (Thomas Dekker) and Cassie (Britt Robertson) were "written in the stars" on The Secret Circle? Well, Adam does!
Now that his breakup with Diana (Shelley Hennig) seems to be sticking, Adam is finally deciding to make his move on Cassie...while looking for clues about her dark magic...in a creepy basement. Now that's what we call romance! Yes, Adam and Cassie's much-talked about chemistry is heating up and what better way to bring it to a boil than at the Fire and Ice party in tomorrow night's episode? 
So how does Cassie react to Adam's proposal? And how do they both feel about their supposed destiny? We've got an exclusive clip that answers those questions and more!
While exploring the Blackwell basement, Adam decides to do some multi-tasking and uses their excavation as an opportunity to ask Cassie to the upcoming Fire and Ice party. Unfortunately, Cassie isn't buying what he's selling, telling Adam they should take separate cars. "I don't want it to seem like we're together together," she says. Ouch! The reason Cassie isn't willing to go there with Adam? Her friendship with Diana. Too bad Adam is more than ready to move on. 
Our favorite part of the scene? When Adam finally throws a fate-bomb in Cassie's face: "What if you and I really are meant to be together?" "I can't think about that," a nervous and hesitant Cassie answers. Alas, this round goes to Adam for this swoonworthy line: "It's funny because these days I can't think about anything else." Then he pulls a "Cassie" and runs off. That's her thing, Adam!
Oh, it's so on. Even better? Jake (Chris Zylka) is coming back to town in the same episode, so we can't wait to see this love triangle heat up in the second half of the season.
The Secret Circle airs tomorrow at 9 p.m. on the CW.
Would you like to see Cassie and Adam together or do you prefer her with Jake? Do you think Cassie would be betraying Diana if she dated Adam? And did you swoon as hard as we did when Adam said that last line? Sound off in the comments!